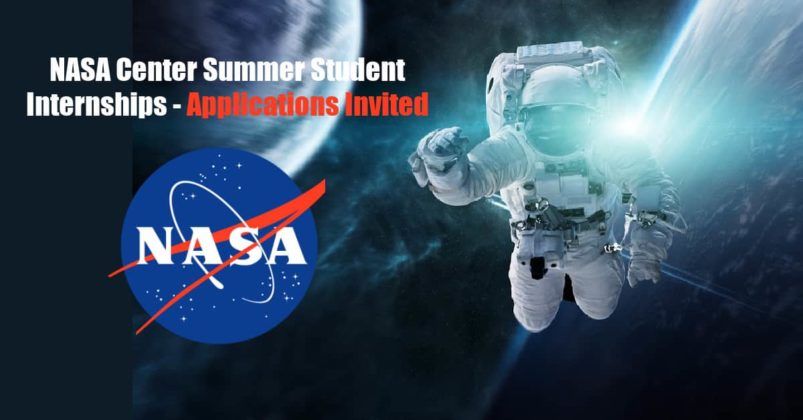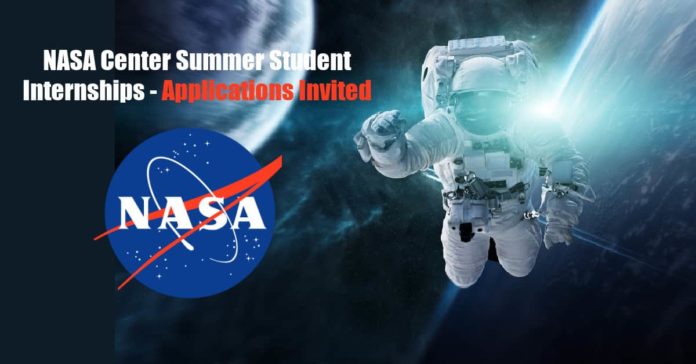 NASA Center Summer Student Internships – Applications Invited
NASA Center Summer Student Internships – Applications Invited. Interested applicants can check out all of the details on the same below:
This Call Expires In :
39
Days
23
Hours
20
Minutes
20
Seconds
NASA CENTER SUMMER STUDENT INTERNSHIPS
NASA internships provide students the opportunity to get hands-on experience and to work with scientists, aeronautics, space science, and engineering personnel at NASA Centers or within the aerospace industry. Link to: NASA Centers and Facilities.
ELIGIBILITY
U.S. citizens (and sometimes permanent residents).
Community college, undergraduate, and graduate students are all eligible to apply.  Students must be enrolled full-time.
NASA internships are generally open to students completing their sophomore through senior years, or first and second year graduate students. Some NASA internship programs will accept community college students after their second year of study, especially if they will be transferring to a 4-year institution to complete their bachelor's degree.
Minimum of 30 credit hours/45 quarter hours completed.
Minimum GPA of 3.0/4.0 for most.
APPLICATIONS AND FUNDING
The application process varies from center to center and with different opportunities.  The application deadlines shown below are for 10 week summer internships.  Funding for summer internships is $7,300 for undergraduates and $9,000 for graduate students.
WYOMING NASA SPACE GRANT SUPPORTED INTERNSHIPS
NASA CENTER SUMMER INTERNSHIPS
Application Deadline: March 5, 2021

Application:  Apply to NASA's one-stop shopping internship site: https://intern.nasa.gov/
Information: Internships at NASA centers and associated facilities.  Students work with a full-time mentor at one of the NASA Centers or facilities on a hands-on research project.  Students can also participate in seminars, social events, and enrichment opportunities offered at the Centers.
NASA ACADEMY SUMMER INTERNSHIPS
Application Deadline:

 March 5, 2021

Application: https://intern.nasa.gov/
Information: The NASA Academy is a unique summer institute of higher learning whose goal is to guide future leaders of the Space Program by giving them a unique perspective on the entire NASA system. It includes a 10-week residency program on the campus of a NASA research center. During this residency, students work closely with NASA researchers on on-going projects, work with other residents on team projects, and attend discussions with experts from both inside and outside NASA. Programs at Ames, Glenn, Goddard, Langley, and Marshall.
Eligibility: U.S. citizens, permanent residents, and citizen of participating European Space Agency countries.  Lodging and meals provided.