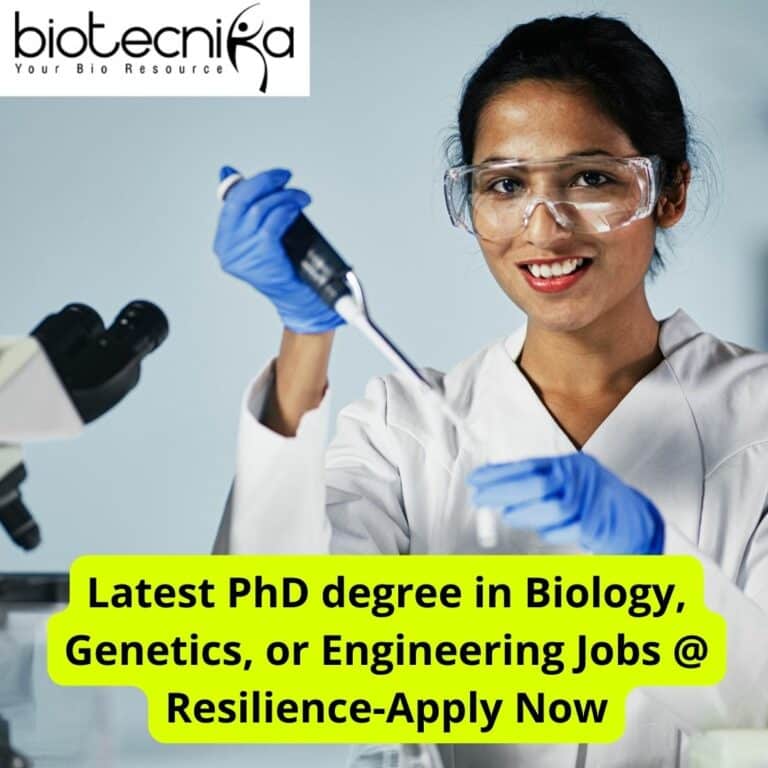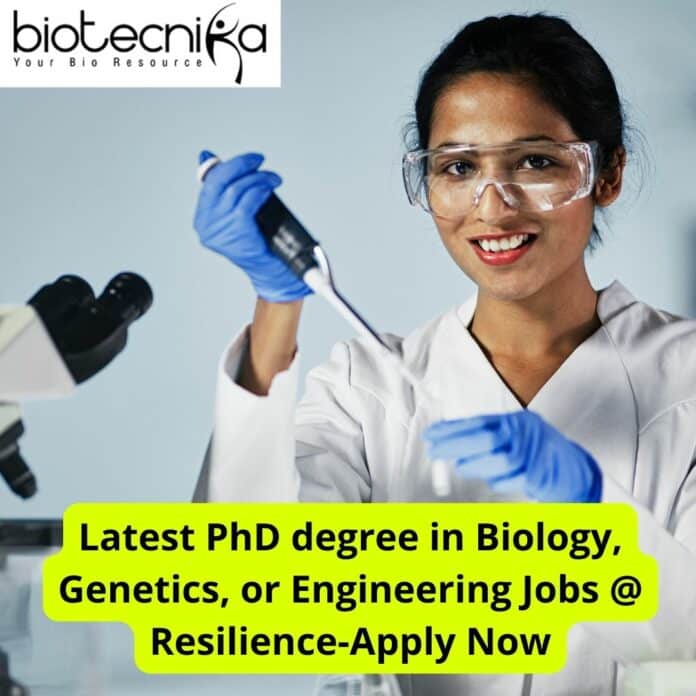 Scientist I at Resilience
Scientist I, Synthetic Biology At Resilience-Latest PhD degree in Biology, Genetics, or Engineering-Apply Now
Job role: Scientist I, Synthetic Biology
Location: San Diego, CA
Discipline: Science/R&D, Biology, Biotechnology
Position Type: Full time
Job Details of Scientist I at Resilience:
A career at Resilience is more than just a job – it's an opportunity to change the future.
Resilience is a technology-focused biomanufacturing company that's changing the way medicine is made. We're building a sustainable network of high-tech, end-to-end manufacturing solutions to better withstand disruptive events, serve scientific discovery, and reach those in need.
For more information, please visit www.resilience.com
Resilience (National Resilience, Inc.) is a first-of-its-kind manufacturing and technology company dedicated to broadening access to complex medicines and protecting biopharmaceutical supply chains against disruption. Founded in 2020, the company is building a sustainable network of high-tech, end-to-end manufacturing solutions to ensure the medicines of today and tomorrow can be made quickly, safely, and at scale. Resilience offers the highest quality and regulatory capabilities, and flexible and adaptive facilities to serve partners of all sizes. By continuously advancing the science of biopharmaceutical manufacturing and development, Resilience frees partners to focus on the discoveries that improve patients' lives. For more information, visit www.resilience.com.
This role will be responsible for designing and implementing new mammalian synthetic biology approaches to expand Resilience R&D's ability to craft and control new producer cell lines. The ideal candidate will have a proven track record of successfully developing new genome engineering tools and sequence designs, working closely with a multidisciplinary team of scientists and engineers. They will be a knowledgeable in the field of genome design, developing multiple experiments to solve complex problems, coordinating day-to-day efforts, and mentoring aspiring junior staff to increase Resilience R&D capabilities and knowledge. This role requires excellent communication and creativity, backed by a high level of velocity and rigor.
Job Responsibilities of Scientist I at Resilience:
Drive innovation through development of novel synthetic biology workflows and applications.
Design, execute, and interpret data from sophisticated experiments and clearly communicate key findings to teams within Resilience R&D.
Oversee complete experimental plans and technical roadmaps to create new inducible systems, engineered vector capsids, and novel readouts of internal cell states.
Perform targeted genome engineering and sequence design.
Assist in developing, executing, and troubleshooting new inducible control systems and reporter mechanisms.
Prepare and follow standard operating procedures, batch records, and other process documentation.
Analyze and document experimental data in electronic laboratory notebooks in a timely and accurate manner in accordance with the company quality management system.
Mentor research associates in proper laboratory techniques and scientific experimental design.
Attend and present scientific data to colleagues at internal and external meetings.
Minimum Qualifications
Expertise in synthetic biology, genome engineering, and/or AAV biology (academic included).
Extensive hands-on experience in genetic engineering tools for targeted (CRISPR) and random integration (transposase, lentiviral, stable transfection)
Extensive experience in designing DNA and RNA sequences (plasmids and maps, primers, guide RNA).
Demonstrated independent problem solving and systematic data-driven experimental design and execution.
Demonstrated ability to clearly communicate technical information and roadmaps through written protocols and/or presentations containing clean figures and visualizations.
Innovative and analytical thinker with outstanding interpersonal, communication, and leadership skill.
Must be highly disciplined and organized, self-motivated and enthusiastic about taking a hands-on approach to collaborative scientific discovery efforts.
Preferred Qualifications
PhD degree in Biology, Genetics, or Engineering related discipline with 1-3 years of laboratory research or industry experience.
Ability to use single cell phenotyping (e.g. flow cytometry / FACS-based analysis / fluorescence microscopy)
Experience with pre-clinical R&D for a cell or gene therapy product or technology development
Experience in preparing, running, and analyzing plate-based continuous and end-point functional assays.
Experience in interfacing with laboratory automation (e.g. automated liquid handlers)
and data analysis software.
Experience in cell line development related to establishing and assessing stability mammalian cell expression systems
Experience in AAV analytics (e.g. d(d)PCR, qPCR, western, etc.) to assess various stages of viral replication
Copy number assay and integration site analysis through PCR/NGS methods
Familiarity with AAV capsid and genome design, inducible promotors, protein engineering techniques, and CRISPR screening approaches.
Resilience is an Equal Employment Opportunity Employer. Qualified applicants will receive consideration for employment without regard to race, color, religion, sex, sexual orientation, gender perception or identity, national origin, age, marital status, protected veteran status, disability status, physical or mental disability, genetic information, or characteristic, or other non-job-related characteristics or other prohibited grounds specified in applicable federal, state, and local laws. Requests for reasonable accommodation can be made at any stage of the recruitment process.
Resilience offers employees a robust total rewards program including equity, an annual cash bonus program, a 401(k) plan with a generous company match and our benefits package which is thoughtfully designed to support our employees with great healthcare (including medical, dental and vision), family building benefits, life and disability insurance, flexible time off, paid holidays, other paid leaves of absence, tuition reimbursement and support for caregiving needs. Our target annualized base pay hiring range for this position is $90,000.00 – $116,250.00. Actual base pay is dependent upon a number of factors, including but not limited to, the candidate's geographical location, relevant experience, qualifications, skills and knowledge. Excited about Resilience and the biomanufacturing revolution? We encourage you to apply and start a conversation with one of our recruiters.
Here are few interview questions with answers to do good at the interview of Scientist I at Resilience:
1: Can you describe a specific project where you successfully applied synthetic biology techniques to design and engineer mammalian cell lines? What challenges did you encounter, and how did you overcome them?
Answer: Certainly. In a previous role, I led a project focused on developing a novel inducible control system for mammalian cell lines to enhance protein production. The challenge was to design a system that allowed precise control of gene expression while maintaining cell viability and productivity. We faced hurdles in optimizing the system for robustness and scalability. To overcome these challenges, we conducted iterative experiments, adjusting various parameters and analyzing the results systematically. Ultimately, we successfully engineered a cell line with the desired inducible control, which significantly improved our protein production capabilities.
2:Could you share an example of a complex experiment you designed and executed to advance synthetic biology workflows or applications? What were the key findings, and how did they contribute to your team's goals?
Answer: Of course. In a recent project, I aimed to create a novel readout system for internal cell states within our producer cell lines. We designed a series of experiments involving the integration of specific reporter genes and the development of corresponding assays. The goal was to monitor cellular responses to environmental changes. Through meticulous experimentation and data analysis, we identified key biomarkers and established a robust readout system. This allowed us to gain valuable insights into cell behavior and make informed decisions about process optimization, ultimately advancing our R&D goals.
3:Collaboration and mentorship are mentioned as essential aspects of this role. Can you provide an example of how you've effectively collaborated with cross-functional teams and mentored junior staff in your previous positions?
Answer: Collaboration and mentorship have been integral to my career. In my previous role, I collaborated with scientists, engineers, and regulatory experts to develop a new biomanufacturing process. I facilitated regular team meetings, fostering open communication and knowledge sharing. Additionally, I mentored junior researchers by providing guidance on experimental design, data analysis, and best laboratory practices. One notable achievement was guiding a junior team member in designing a critical experiment that led to a breakthrough in our project. This collaborative and mentoring approach contributed significantly to our team's success.
4:Resilience emphasizes the importance of innovation in this role. Can you share an example of how you've introduced innovative approaches or technologies to enhance synthetic biology workflows or address complex scientific challenges?
Answer: Innovation is at the core of my approach to research. In a previous role, I recognized the potential of automation to streamline our experimental processes. I introduced an automated liquid handling system to our laboratory, which significantly improved the efficiency and reproducibility of our experiments. This innovation allowed us to handle a higher volume of experiments simultaneously, accelerating our research timelines. Moreover, I implemented data analysis software that streamlined the interpretation of results. These innovations not only improved our workflow but also contributed to the overall advancement of our research objectives.
Scientist I at Resilience
Follow BIOTECNIKA GLOBAL for more job updates.