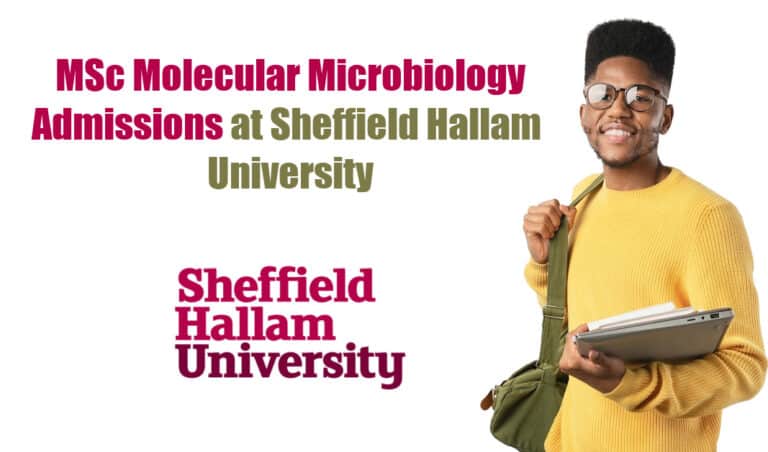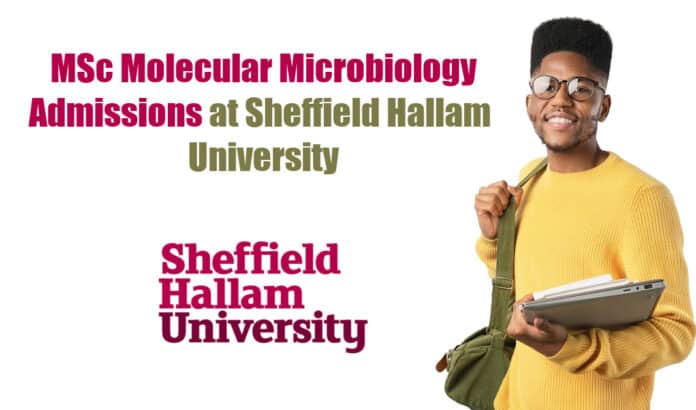 Sheffield Hallam University Admission For MSc Molecular Microbiology
Sheffield Hallam University Admission For MSc Molecular Microbiology. Sheffield Hallam University is one of the UK's largest and most diverse universities: a community of more than 30,000 students, 4,000 staff and more than 250,000 alumni around the globe.
Course summary
Explore the fundamental principles that underpin environmental, industrial and medical microbiology.
Learn how microorganisms cause disease and interact with the immune system and what practical steps can be taken to prevent and treat these conditions.
Consider how bacteria and fungi can be used as tools in a diverse range of industries.
Develop and enhance your laboratory skills from experimental design, through utilisation of pertinent techniques, to interpretation of results.
This course has been designed to respond to the increasing need for highly skilled microbiologists across a range of industries. You'll undertake the critical task of translating basic laboratory medical research into clinical and commercial applications.
Come to an open day
Find out more at our postgraduate open days. Book now for your place.
2. How you learn
All our courses are designed around a set of key principles based on engaging you with the world, collaborating with others, challenging you to think in new ways, and providing you with a supportive environment in which you can thrive.
You experience a vibrant, challenging and supportive range of learning activities as you progress through the course. The overall aim of the programme is to give you sound preparation for a career in microbiology.
This course covers subjects such as diagnosis, understanding, treatment, and prognosis of disease, and biotechnology applications such as the production of drugs, environmental bioremediation.
Practical skills are developed throughout the course and you gain experience in molecular microbiology and other related techniques]\. All practical classes are led by academic staff whose research incorporates the latest microbiological and biotechnological techniques.
You learn through
lectures and seminars
workshops and tutorials
laboratory classes
a research project
experience days
Applied learning
Live projects
Research skills and statistical analysis are developed throughout the programme and applied to relevant microbiological problems/case studies. New elements of genomics and proteomics have been introduced allowing students to apply basic science knowledge and skills to experimental study design, and management and data analysis. In the final trimester, students' apply their skills to a two month research project, working with an academic who is a specialist in the field, exploring a current microbiological application.
Field trips
Embedded in various modules are opportunities to visit organisations using microbiology practically in the healthcare, biotechnology and food and beverage industries. For example students studying microbial biotechnology have opportunities to visit a brewery and students enrolled on medical microbiology modules will get the chance to visit a clinical microbiology pathology laboratory.
---
3. Future careers
This course prepares you for a career in
academic research
the industrial biotechnology sector
the health biotechnology sector
PhD study
the pharmaceutical industry
food and beverage industries
Equipment and facilities
On this course you work with
industry-standard instrumentation
a state of the art microbiology suite in our research centre
Biosciences and Chemistry Facilities Tour
Take a look around the biosciences and chemistry facilities at Sheffield Hallam University with senior lecturer and recruitment lead Dr Susan Campbell.
5. Entry requirements
A 2:1 in a relevant Honours degree is normally accepted as the entry requirement for the course. Applicants with a 2:2 are also actively encouraged to apply and will be considered on an individual basis. Applicants with alternative qualifications with academic attainment or skills in subjects which are directly relevant to the course will also be considered.
If English is not your first language you will need an IELTS score of 6.0 with a minimum of 5.5 in all skills, or a recognised equivalent.
---
6. Modules
Module and assessment information for future years is displayed as currently validated and may be liable to change. When selecting electives, your choices will be subject to the core requirements of the course. As a result, selections may be limited to a choice between one of two or more specified electives in some instances.
Compulsory modules
Module
Credits
Assessment
Advanced Applications in Microbial Microbiology
15.00
Coursework
Advanced Laboratory and Research Practice
30.00
Coursework
Applied Laboratory Practive
15.00
Coursework
Case Studies in Infectious Disease
15.00
Coursework
Exam
Fundamentals of Microbial Microbiology
15.00
Coursework
Exam
Fundamentals of Molecular Microbiology
15.00
Coursework
Exam
Research Project
60.00
Coursework
Practical
Elective modules

| Module | Credits | Assessment |
| --- | --- | --- |
| Current Laboratory Applications | 15.00 | Coursework |
| Genomics and Proteomics | 15.00 | Coursework |
---
Fees and funding
Home students
Our tuition fee for UK students starting full-time study in 2021/22 is £8,490 for the course. For part-time study the fee will be calculated pro-rata each year based on the number of credits studied (£2,830 for 60 credits).
† If you are studying an undergraduate course, postgraduate pre-registration course or postgraduate research course over more than one academic year then your tuition fees may increase in subsequent years in line with Government regulations or UK Research and Innovation (UKRI) published fees. More information can be found in our terms and conditions under student fees regulations.
Postgraduate student loans
Up to £11,222 available for Home students on most masters courses.
Additional course costs
This link allows you to view estimated costs associated with the main activities on specific courses. These are estimates and, as such, are only an indication of additional course costs. Actual costs can vary greatly depending on the choices you make during your course.
Additional costs for Biosciences and chemistry courses (PDF, 248.4KB)
How do I apply?
You apply for this course via our online application form.
You can also use the application form above to apply for future years of entry. If you require an alternate version of the application form, please email [email protected].
Not ready to apply just yet?
Why not come to our next open day? Open days are the perfect place to talk to staff and students, visit our campuses and get all the information you need. Alternatively, feel free to ask us a question.
Come to an open day  Ask a question
Sheffield Hallam University Admission For MSc Molecular Microbiology