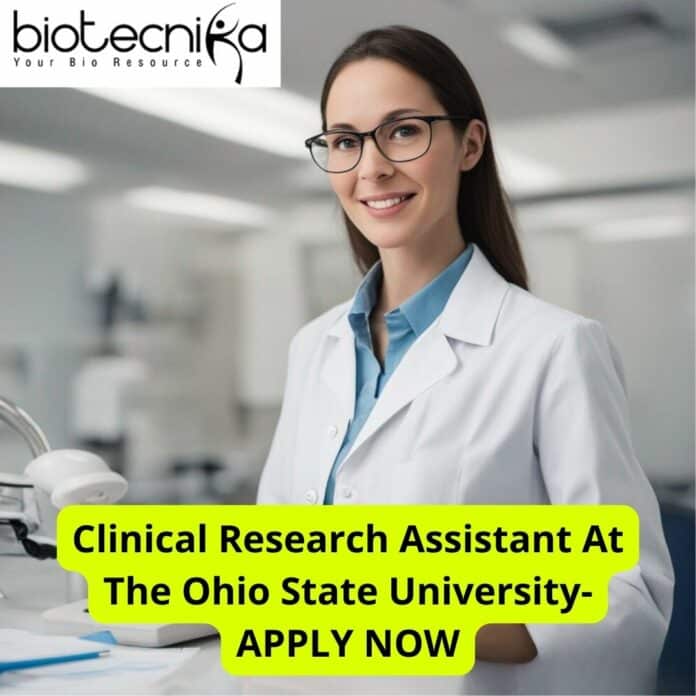 Clinical Research Assistant At The Ohio State University – Latest BSc Biological Sciences-Interested candidates can check the details below and apply online.
Job role: Clinical Research Assistant
Job ID: R87754
Job location: Medical Center Campus, Olentangy River Rd, 3650 (2520)
Job type: Full time
Department: Medicine | IM Medical Oncology
Position Type: Regular
Scheduled Hours: 40
Shift: First Shift
Screen reader users may encounter difficulty with this site. For assistance with applying, please contact [email protected]. If you have questions while submitting an application, please review these frequently asked questions.
Current Employees and Students:
If you are currently employed or enrolled as a student at The Ohio State University, please log in to Workday to use the internal application process.
Welcome to The Ohio State University's career site. We invite you to apply to positions of interest. In order to ensure your application is complete, you must complete the following:
Ensure you have all necessary documents available when starting the application process. You can review the additional job description section on postings for documents that may be required.
Prior to submitting your application, please review and update (if necessary) the information in your candidate profile as it will transfer to your application.The Clinical Research Assistant will provide support to the Center for Tobacco Research within the Comprehensive Cancer Center at The Ohio State University Wexner Medical Center.
Responsibilities:
Review research participant records and assist with data extraction, entry, and coding for both quantitative and qualitative studies
Assist with participant recruitment and retention through monitoring ad responses and contacting participants as needed
Assist with participant eligibility screening, enrollment, informed consent, and tracking study milestones
Schedule participant visits and assist with conducting studies
Assist with data quality control
Assist with issuing participant incentives and payments
Perform other duties as assigned by project leader or management.
Education/Experience:
Bachelor's degree in public health, biological sciences, health sciences, social sciences, psychology, human ecology or other heath related field or an equivalent combination of education & experience required
Experience with human subjects training in a clinical research capacity or setting desired
Experience in a research and/or clinical setting working with participants or patients desired
Computer skills required with experience using Microsoft Office Software applications desired
Must be able to effectively communicate via face-to-face, over the phone, and in writing, with research staff, research participants, and outside collaborators.
Requires successful completion of a background check
Qualified candidates may be requested to complete a pre-employment physical, including a drug screen
Starting salary for this position: $20.00 hourly
Career Roadmap Mapping:
Research and Scholarship – Clinical Research – Technical – T2
Additional Information:
As one of only 50 designated comprehensive cancer centers in the nation, The Ohio State University Comprehensive Cancer Center – Arthur G. James Cancer Hospital and Richard J. Solove Research Institute is dedicated to the creation of knowledge in laboratory, clinical and population-based cancer research. We apply those discoveries to develop more effective approaches to cancer prevention, diagnosis, and therapies – providing tomorrow's standard of care today. A Cancer-Free World Begins Here.
Final candidates are subject to successful completion of a background check. A drug screen or physical may be required during the post offer process.
Thank you for your interest in positions at The Ohio State University and Wexner Medical Center. Once you have applied, the most updated information on the status of your application can be found by visiting the Candidate Home section of this site. Please view your submitted applications by logging in and reviewing your status. For answers to additional questions please review the frequently asked questions.
The Ohio State University is an equal opportunity employer.
All qualified applicants will receive consideration for employment without regard to age, ancestry, color, disability, ethnicity, gender identity or expression, genetic information, HIV/AIDS status, military status, national origin, race, religion, sex, gender, sexual orientation, pregnancy, protected veteran status, or any other basis under the law.
Applicants are encouraged to complete and submit the Equal Employment Identification form.
Here are four interview questions along with sample answers for the Clinical Research Assistant role at The Ohio State University:
1: Can you describe your experience with data extraction and coding for both quantitative and qualitative research studies?
Answer: Certainly. In my previous role as a Research Assistant, I had the opportunity to work on several research projects where I was responsible for reviewing participant records and extracting relevant data. For quantitative studies, I ensured accurate data entry and coding, adhering to established protocols and standards. When working on qualitative studies, I transcribed and coded interviews, maintaining a systematic approach to data organization. These experiences have given me a strong foundation in handling data for various research methodologies.
2: How do you plan to contribute to participant recruitment and retention efforts in this role?
Answer: I believe participant recruitment and retention are essential aspects of clinical research. To contribute effectively, I plan to closely monitor ad responses and promptly contact potential participants. I'll ensure that the informed consent process is conducted smoothly, addressing any participant concerns. Additionally, I will work on building rapport with participants to enhance retention rates, maintaining open communication channels, and offering support throughout their involvement in the study. My goal is to create a positive and trusting relationship with participants.
3: Can you provide an example of a challenging situation you encountered while assisting with clinical research, and how did you handle it?
Answer: Certainly. In a previous research project, we faced a delay in participant enrollment due to unforeseen logistical issues. To address this challenge, I collaborated closely with the research team to identify alternative recruitment strategies. We revised our recruitment materials, expanded our outreach efforts, and leveraged local partnerships to increase our participant pool. Through proactive problem-solving and teamwork, we were able to meet our enrollment targets and maintain the study's timeline.
4: How do you ensure data quality control in a clinical research setting, and why is it important?
Answer: Data quality control is crucial to maintaining the integrity and reliability of research findings. To ensure data quality, I adopt a meticulous approach. First, I double-check data entry for accuracy and completeness. I also conduct regular data audits to identify and rectify any discrepancies. Furthermore, I maintain strict adherence to data security and confidentiality protocols to safeguard participant information. Quality control is an ongoing process, and I continuously monitor and improve data management procedures to uphold the highest standards of research integrity.
These sample answers can serve as a foundation for interview questions in this role, but candidates should tailor their responses based on their unique experiences and qualifications.
Check out BIOTECNIKA GLOBAL for more job updates.