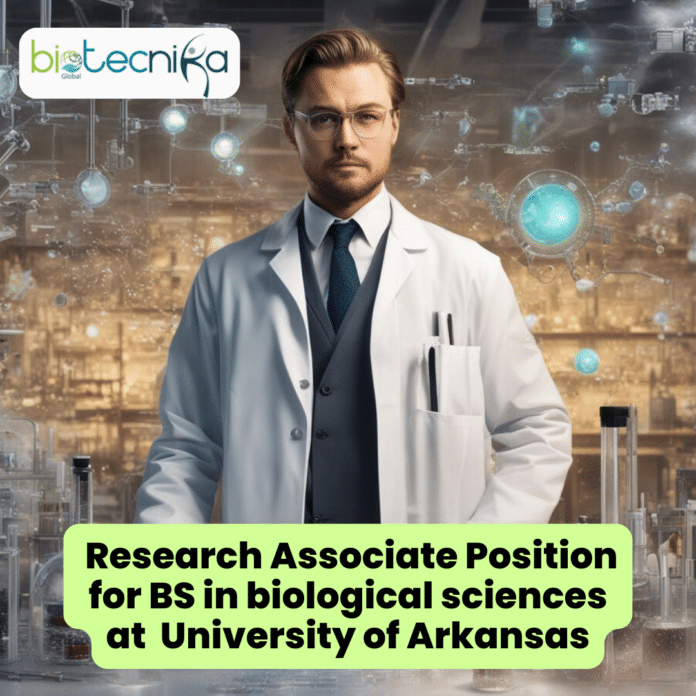 University of Arkansas Hiring BS in biological sciences For Research Associate Position
University of Arkansas Hiring BS in biological sciences . University of Arkansas Hiring For Research Associate Position. Interested Applicants can check out the details below and Apply Online
Job title: Research Associate I
Job Location: Little Rock
Job id: R0045225
Job Category: Research
Job Type: Full Time
Institution Name: University of Arkansas for Medical Sciences
The University of Arkansas for Medical Sciences (UAMS) has a unique combination of education, research, and clinical programs that encourages and supports teamwork and diversity. We champion being a collaborative health care organization, focused on improving patient care and the lives of Arkansans.
UAMS offers amazing benefits and perks (available for benefits eligible positions only):
Health: Medical, Dental and Vision plans available for qualifying staff and family
Holiday, Vacation and Sick Leave
Education discount for staff and dependents (undergraduate only)
Retirement: Up to 10% matched contribution from UAMS
Basic Life Insurance up to $50,000
Career Training and Educational Opportunities
Merchant Discounts
Concierge prescription delivery on the main campus when using UAMS pharmacy
Below you will find the details for the position including any supplementary documentation and questions you should review before applying for the opening. To apply for the position, please click the Apply link/button.
The University of Arkansas is an equal opportunity, affirmative action institution. The University does not discriminate in its education programs or activities (including in admission and employment) on the basis of age, race, color, national origin, disability, religion, marital or parental status, protected veteran status, military service, genetic information, or sex (including pregnancy, sexual orientation, and gender identity). Federal law prohibits the University from discriminating on these bases. Questions or concerns about the application of Title IX, which prohibits discrimination on the basis of sex, may be sent to the University's Title IX Coordinator and to the U.S. Department of Education Office for Civil Rights.
Persons must have proof of legal authority to work in the United States on the first day of employment.
All application information is subject to public disclosure under the Arkansas Freedom of Information Act.
For general application assistance or if you have questions about a job posting, please contact Human Resources at [email protected].
Summary of Job Duties:
The Research Associate will report directly to the Principal Investigator Dr. Roy Morello, Associate Professor in the Department of Physiology and Cell Biology. The Research Associate will be responsible for most aspects of the day-to-day operations in the laboratory, including but not limited to instrument supervision and routine checks to maintain efficient operations, asking quotes and generating orders for reagents and disposables, maintaining mouse colonies using proven husbandry methodologies, perform bench experiments, collect data, and generate graphical reports, perform animal surgeries as described in the approved animal protocols, keep inventory of chemicals and regulated substances, assist the PI with annual laboratory inspections and the writing of animal use protocols. Visit UAMS website to learn more: https://ddei.uams.edu/
Knowledge, Skills & Abilities:
Animal experimentation (dissection and/ or surgical) experience.
Lab management.
Assisting in lab inspection
Microsoft Office suite (Outlook, Word, Excel, Reference Manager);
Software for analysis of BMD and microCT (ex vivo and in vivo);
Histomorphometric analysis of bone with Osteometric software;
Cell and molecular biology techniques and approaches
Additional Information:
Responsibilities:
Manage the overall organization of the laboratory.
Maintain consistency in all experimental protocols.
Provide oversight on ordering of laboratory supplies.
Participate in strategic planning of animal experimentation.
Analyze and make recommendations to the Principal Investigator (PI) in facilitating cost-savings and operational efficiencies in the laboratory work.
Ensure effective coordination of day-to-day operations and monitor the progress and performance of all experimentation (including in vitro, ex vivo and in vivo approaches).
Coordinate the agenda, write the minutes and action items for the meetings of the PI with all members of the research group (general lab meeting) and with subgroups of researchers for specific projects.
Provide oversight of all animal experimentation.
Perform and/or provide training and oversight for all surgical protocols in the laboratory.
Manage mouse databases.
Maintain mouse colonies.
Perform technical procedures related to analysis of bone and muscle by histomorphometric approaches.
Provide training to new technical personal, fellows and students in protocols and procedures involving animals.
Maintain a seamless interaction with the director and personnel of the University Animal Laboratory regarding animal health and animal care charges.
RNA isolation from bone, lung, and from cultured cells.
Preparation of RNA for RNAseq analysis.
Write animal use protocols (AUP).
Write standard operating procedures for animal experimentation (SOPs).
Develop new AUP and SOPs as needed for new research developed by the PI.
Assist the PI in the submission of AUPs and SOPs for institutional regulatory reviews.
Assist the PI in the revision of AUPs and SOPs applications requested by the regulatory reviews.
Assist the PI with regulation compliance and inspections.
Maintain controlled substance inventory.
Maintain records of animal experiments inventory to assure compliance of regulations.
May perform other duties as assigned.
Qualifications:
Bachelor's degree in biological sciences or related field plus five (5) years of direct experience working in research.
University of Arkansas Hiring BS in biological sciences For Research Associate Position. Here are five interview questions and sample answers:
Can you describe your experience with animal experimentation, including dissection and surgical procedures?Sample Answer: In my previous roles, I gained valuable experience in animal experimentation, particularly in performing dissection and surgical procedures. I have hands-on experience in handling laboratory animals, following ethical protocols, and conducting surgeries as outlined in approved animal protocols. I am well-versed in maintaining animal colonies and ensuring their well-being throughout experiments. This experience has honed my skills in animal research, contributing to the success of research projects.
How do you approach laboratory management, including overseeing ordering of supplies and maintaining efficient operations?Sample Answer: Laboratory management requires attention to detail and organization. I take a proactive approach to oversee the ordering of laboratory supplies, ensuring we have the necessary reagents and disposables for experiments. I maintain meticulous records of inventory, manage the overall organization of the lab, and collaborate with team members to maintain consistency in experimental protocols. My goal is to facilitate cost-savings and operational efficiencies while ensuring a well-functioning laboratory environment.
Could you provide an example of a situation where you had to coordinate and facilitate communication within a research group to achieve project goals?Sample Answer: Certainly, in my previous role, I played a key role in coordinating and facilitating communication within our research group. We had regular lab meetings where we discussed project updates and goals. I was responsible for setting the agenda, recording meeting minutes, and tracking action items. This ensured that everyone was aligned with the project objectives and timelines. By fostering effective communication and collaboration, we successfully completed projects on time and met our research goals.
How do you stay updated with the latest techniques and technologies in cell and molecular biology, and how have you applied this knowledge in your previous research work?Sample Answer: Staying updated with advancements in cell and molecular biology is essential in research. I keep abreast of the latest techniques and technologies by regularly reading scientific literature, attending conferences, and participating in relevant workshops. I have applied this knowledge to improve our experimental approaches. For example, I integrated cutting-edge histomorphometric analysis software into our research, which enhanced the accuracy and efficiency of our bone and muscle analysis. This proactive approach to learning and implementation has been valuable in advancing our research objectives.
Can you describe your experience in preparing and submitting animal use protocols (AUPs) and standard operating procedures (SOPs) for regulatory reviews, and how you ensure compliance with regulations?Sample Answer: I have extensive experience in preparing and submitting AUPs and SOPs for regulatory reviews. This involves drafting detailed documents that outline the ethical and procedural aspects of our research involving animals. I ensure compliance with regulations by staying up-to-date with institutional guidelines and regulatory requirements. I work closely with the Principal Investigator to address any feedback or revisions requested during the review process. This meticulous approach to regulatory compliance has resulted in successful approvals and smooth inspections, contributing to the ethical conduct of our research.