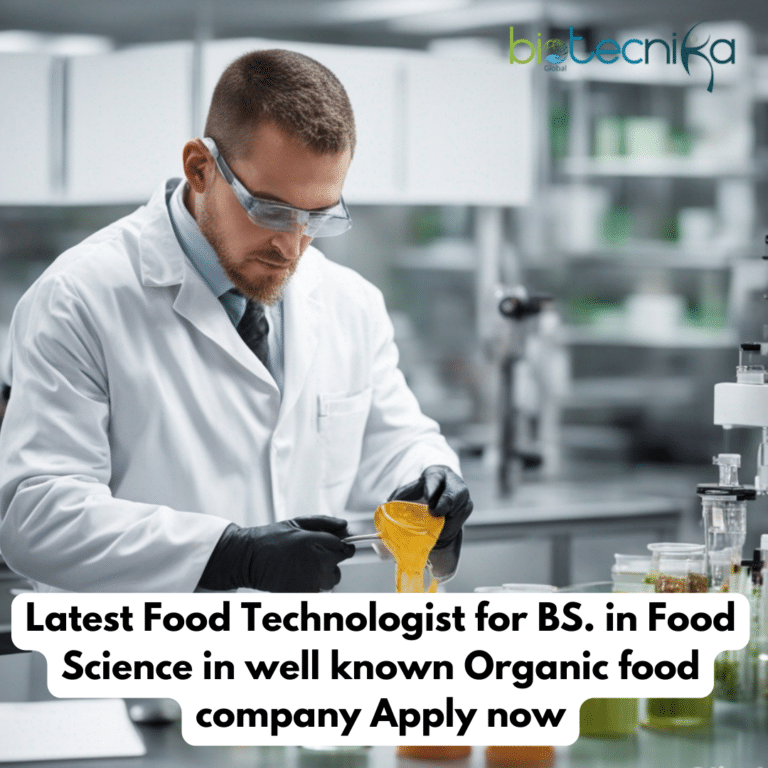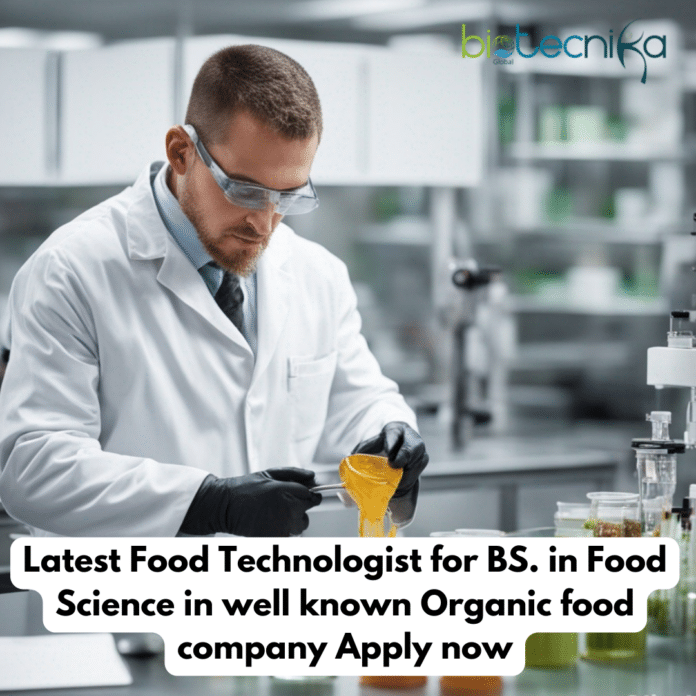 Latest Food Technologist at Amy's for Sensory Food Technologist Job, Interested and eligible candidates Apply online
Job Title: Sensory Food Technologist
Job ID: ID 2023-2425
Job Location: US-ID-Pocatello
Category: Quality Assurance
Summary: 
At Amy's Kitchen, quality is the key ingredient that makes our product great! For that reason, we are hiring for a Sensory Food Technologist in Pocatello, who will help oversee our sensory program and make sure our meals consistently meet the quality standards. In this role, you will manage a variety of tasks related to the advancement of Sensory, including plant-level implementation of corporate sensory programs, collaboration with kitchen, business units and quality assurance to investigate and resolve sensory issues, coordination of various R&D projects, as well as consultative technical advisement. Come join our growing family!
Responsibilities for Food Technologist at Amy's : 
A TYPICAL DAY
Implements corporate sensory programs at the plant level
Creates relationships across the plant organization to promote high sensory quality and resolve sensory issues
Collaborates with plant functions to reduce sensory-related consumer complaints
Uses technical expertise to provide consultative guidance when troubleshooting sensory issues
Manages the screening and training of core tasters and other plant staff as needed
Works closely with corporate sensory staff and other departments to collect, record and maintain sensory attribute descriptions of raw materials, intermediates and finished goods
Supervises specialized taste panels and analyzes results for routine and non-routine issues
Tracks and analyzes results from plant sensory tastings to identify trends
Interprets reports and flag sensory issues, product drift and training opportunities
Summarizes findings in oral or written reports for plant and corporate management and makes recommendations for next steps
Maintains utility of sensory data collection software at the plant level
Assist with R&D projects as assigned by the Culinary department.
Participates in tastings and evaluate the organoleptic quality of our raw materials, intermediates and finished goods as required. Good tasting skills a plus.
Maintains records, manages projects, write reports, write SOPs, create specs, etc. as required.
Performs other duties as assigned by the Sensory Manager or Corporate Sensory Program Manager.
Follows Good Manufacturing Practices (work habits, GMP's and correct food-handling procedures).
It is the responsibility of all employees to uphold the mission of the Amy's Food Safety and Quality Policy. This includes following all Food Safety and Sustainability programs and participating in all required training.
SUPERVISORY RESPONSIBILITES
This position does not directly supervise other Amy's employees.  This position requires a high degree of collaboration, influence and consensus building to drive key initiatives
Qualifications and Skills for Food Technologist at Amy's :
EDUCATION AND EXPERIENCE
BS. in Food Science with coursework in Sensory Science from an accredited college or university.
2 -3 years related experience and/or training
Or equivalent combination of education and experience.
SKILLS
Extensive knowledge of Sensory Science
Experience with EyeQuestion software a plus
Knowledge and passion for food, cooking, flavors, ingredients, etc.
Discerning and sensitive palette preferred
Proven well developed and effective communication and teamwork skills
Adept at training and engaging audiences
Strong computer, project management and written communication skills
Proven success multi-tasking in a fast paced environment
High degree of ownership and professional commitment
TRAVEL
Estimated travel requirements are minimal, <5%
ABOUT US
We are a family owned, proudly independent organic food company and Certified B Corporation® whose purpose is to make it easy and enjoyable for everyone to eat well. Amy's is committed to cooking authentic great tasting food with high quality, meticulously sourced organic ingredients and making them convenient for consumers.
Working at one of our Plant Kitchens is an opportunity to join the Amy's family and take pride in working hard at something that matters. Build a career with Amy's and make a difference!
Possible interview questions may be asked for Food Technologist at Amy's
1. Can you briefly describe your background in food science and how it aligns with the requirements of the Sensory Food Technologist role at Amy's?
Answer: Certainly. I have a Bachelor of Science in Food Science and [mention number of years] of experience in the field. Throughout my academic and professional journey, I've gained valuable knowledge in sensory evaluation, quality control, and product development. I believe this background aligns well with the responsibilities of the Sensory Food Technologist position at Amy's.
2. Sensory evaluation is a critical aspect of this role. Can you share your experience with designing and conducting sensory tests for food products?
Answer: I have experience in designing and conducting sensory tests for various food products. In my previous role at [mention previous company], I led sensory evaluation panels to assess attributes such as taste, texture, aroma, and appearance. I followed industry-standard protocols, collected and analyzed data, and used sensory insights to inform product improvements.
3. Amy's emphasizes creating high-quality organic and sustainable food products. How do you ensure that sensory evaluations align with these quality and sustainability goals?
Answer: To align sensory evaluations with quality and sustainability goals, I consider factors such as organic ingredients, production processes, and packaging. I ensure that sensory testing accounts for the preservation of natural flavors and textures in organic ingredients. Additionally, I explore sustainable packaging options to minimize environmental impact while maintaining product freshness.
4. Collaboration is essential in food product development. Can you provide an example of a project where you successfully collaborated with cross-functional teams to enhance a food product's sensory attributes?
Answer: Certainly. In a previous project, we aimed to improve the taste and texture of a frozen vegetable product. I collaborated closely with the product development, culinary, and quality assurance teams. Through sensory evaluations and feedback sessions, we identified specific improvements needed. Working together, we reformulated the product, resulting in a significant enhancement of sensory attributes.
5. The food industry is dynamic, with evolving consumer preferences. How do you stay updated with the latest sensory evaluation techniques and trends?
Answer: Staying updated is crucial in sensory evaluation. I regularly attend workshops and conferences related to sensory science and food trends. I'm also a member of sensory science associations, which provide access to valuable resources and networking opportunities. Additionally, I engage in continuous learning to explore emerging techniques and technologies.