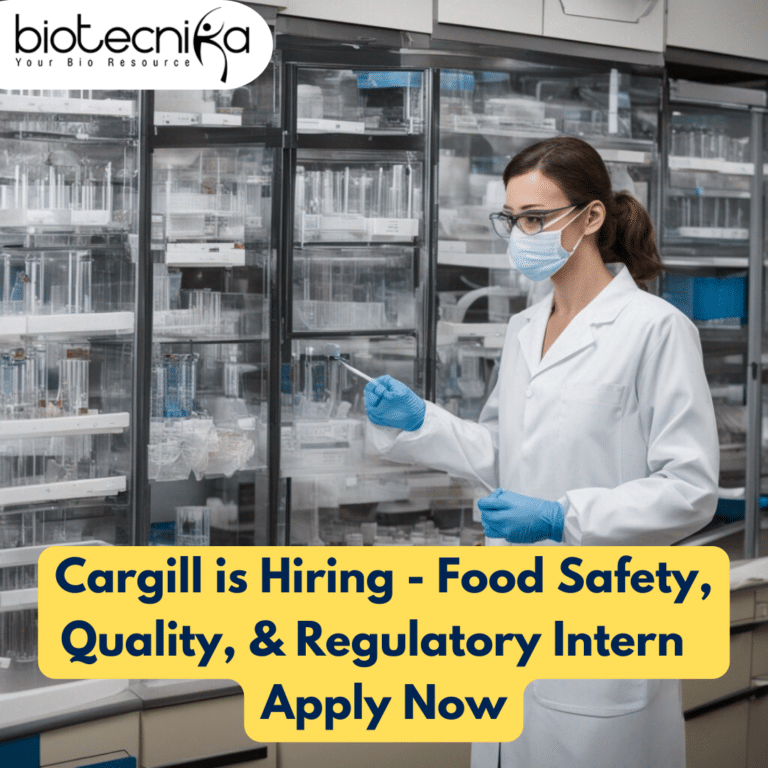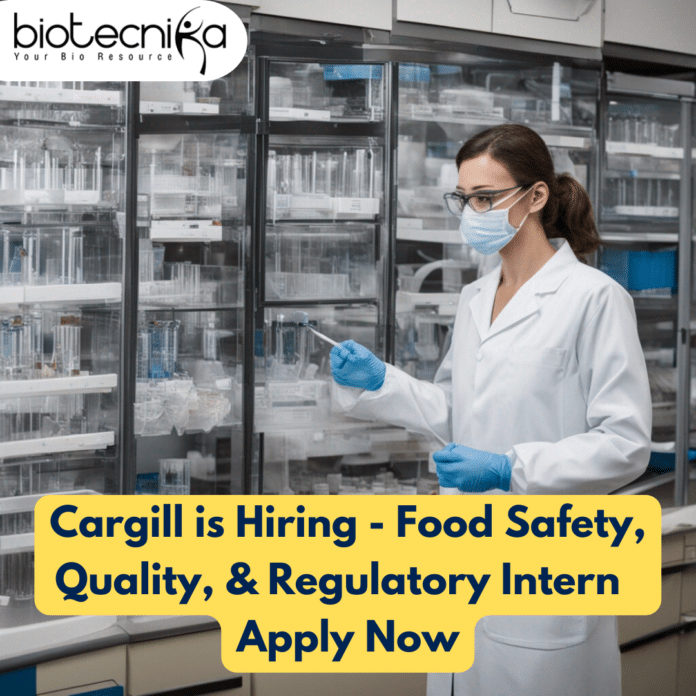 Cargill is Hiring – Food Safety Quality & Regulatory Internship role – Check out the details and Apply below
Role : Food Safety, Quality, & Regulatory Intern – Summer 2024 – Protein
Locations : Turkey – Multiple U.S. Locations ( Dayton, Virginia | Springdale, Arkansas | California, Missouri)
Job ID : 272810
Job Purpose and Impact
Key Accountabilities :
Food Safety, Quality, & Regulatory Internship:
This position is part of Cargill's Turkey Protein Business and will support a primary production facility in the United States. The Food Safety, Quality, & Regulatory (FSQR) function will provide students who have career interest in the food industry and have scientific-related academic backgrounds, the opportunity to apply knowledge gained in the classroom to a food business and manufacturing environment. The internship program is designed to provide students with the opportunity to learn and work within Cargill's Turkey business to provide solutions to customers. Through assigned projects, Interns will have the opportunity to positively impact a number of food safety, quality, and efficiency initiatives.
Your Work:
Our FSQR Interns will experience a broad cross-section of manufacturing as part of Cargill's Turkey Protein business. In addition, interns will gain exposure to several FSQR programs such as:
Food Safety.
HACCP and auditing processes.
Laboratory & Instrumentation programs.
Food manufacturing & Pre-requisite programs.
Product inspection and disposition.
supplier and external manufacturing.
meaningful project work in related areas.
Principal Accountabilities:
Final product approval and assurance of compliance to customer specifications.
Daily assessment of process quality parameters and quality assurance systems, including calibration, raw materials, maintenance, procedures, food safety, training, and auditing.
Data analysis, trend identification, troubleshooting, corrective action, and communication with regards to processing data, final product, and wastewater.
Operate and maintain lab, control room, and in-process instrumentation.
Dispose of hazardous wastes (biological and chemical).
Perform miscellaneous job-related duties as assigned (i.e., Process improvement projects, development and modification of Food Safety and Quality procedures and documents, and assisting other locations with process start-ups and projects).
Work Environment:
Our FSQR Roles are located in an industrial/processing plant environment. The plant environment is team-based, fast-paced, and hands-on.
This position requires a moderate amount of physical exertion on a fairly regular basis. The work may also involve other exertions, conditions, or exposures (i.e. heat, cold, working in a wet environment, etc.).
Our culture focuses on Safety, Employee Engagement, Inclusion, & Innovation
Depending on the location, this role may require individuals to work different shifts including 2nd and 3rd shift hours.
Internship Information
Our Programming:
With comprehensive learning resources at your disposal, you can take your learning in any direction.
As employees, interns receive access to volunteer and community outreach opportunities and paid time off for volunteer activities.
Throughout the internship, interns are invited to participate in events that will give exposure to leadership, provide development opportunities, and offer the ability to network with cross-functional interns/co-ops across the U.S.
Internship details:
Internships are typically 12 weeks in duration.
Interns are paid hourly for time worked.
Interns are responsible for transportation to and from work.
Interns may have the opportunity to travel during their term.
Interns who demonstrate outstanding performance and a curiosity to learn more may be offered an internship, co-op or full-time position to return the following year.
Our Benefits:
No matter who you are or where you are, we have resources to meet your needs. As an intern, you'll have access to a wide variety of programs to support you and help you thrive. Eligible programs and incentives include:
Paid time off
Mental Health and Wellbeing program
Digital Learning Library
Housing and Relocation Assistance for those that qualify
Required Qualifications:
Currently pursuing a Bachelor's or Master's degree from an accredited program in a technical science program (Chemistry, Food Science, Animal Science, Meat Science, Microbiology, Biochemistry, Biology, or a related technical science degree) graduating between December 2024 and May 2026
Right to work in the U.S. that is not based solely on possession of a student visa or a visa sponsored by a third-party employer
Must be 18 years of age or older
Able to complete a 12-week internship in the summer (May/June – August 2024)
Must be open to working in a plant environment
Candidates must be geographically flexible and willing to relocate for an internship opportunity to one of the following locations: Dayton, VA | Springdale, AR | California, MO
Ability to work a flexible schedule which may include nights and weekends with advance notice
Ability to work optimally with individuals from a diverse set of backgrounds and cultures
Must possess a high degree of initiative and resourcefulness in completing work with limited guidance
Preferred Qualifications:
Overall GPA of 3.0 or higher based on a 4.0 scale
Basic food safety knowledge with specific emphasis on Hazard Analysis and Critical Control Point (HACCP), Good Manufacturing Processes (GMPs), labeling, food additives, sanitation, and food microbiology
Experience in applying statistical and quality management tools such as control charts, histograms, capability studies, etc.
Strong leadership and technical skills
Demonstrated ability of collaboration, communication, motivation, interpersonal effectiveness, teamwork, and successful completion of work
Moderate computer skills (word processing, spreadsheets, and database navigation)
Experience applying Continuous Improvement concepts
Bilingual (English/Spanish)
Check out Biotecnika Global for more updates
Here are some interview questions and sample answers for the Food Safety, Quality, & Regulatory Internship role at Cargill:
1. Can you tell us about your academic background and how it relates to your interest in the food industry and regulatory compliance?
Sample Answer: I am currently pursuing a degree in Food Science with a focus on food safety and quality assurance. My academic background has provided me with a strong foundation in the principles of food safety, quality control, and regulatory compliance. I am enthusiastic about applying the knowledge I have gained in the classroom to real-world scenarios within the food industry.
2. What specific areas of food safety and quality are you most interested in, and how do you see this internship helping you gain experience in those areas?
Sample Answer: I am particularly interested in food safety protocols, HACCP processes, and quality assurance systems. This internship at Cargill presents an excellent opportunity for me to gain hands-on experience in these areas. I anticipate being involved in activities such as process quality assessment, data analysis, and product inspection, which will significantly contribute to my understanding and proficiency in food safety and quality management.
3. Can you provide an example of a project or coursework where you had to analyze data and identify trends related to food safety or quality assurance?
Sample Answer: During a previous academic project, I had to analyze data from a food safety audit in a manufacturing facility. I collected data on various quality parameters, identified trends in non-compliance with food safety regulations, and proposed corrective actions to address the issues. This project helped me develop my analytical skills and demonstrated my ability to contribute to improving food safety practices.
4. How do you plan to ensure compliance with food safety and quality standards while working in a fast-paced and hands-on plant environment?
Sample Answer: To ensure compliance with food safety and quality standards in a fast-paced plant environment, I believe communication, attention to detail, and a proactive approach are key. I will actively engage with the team, regularly assess process quality parameters, and perform data analysis to identify any deviations from standards. Prompt communication and collaboration with colleagues will be essential to address any issues and ensure the highest level of compliance.
5. Can you describe your ability to work in a team-based, industrial/processing plant environment?
Sample Answer: I have experience working in team-based environments during my academic projects and coursework. I understand the importance of effective teamwork, especially in an industrial setting. I am adaptable and thrive in fast-paced environments where collaboration and communication are essential. I believe my ability to work harmoniously in a team will contribute to the success of the Food Safety, Quality, & Regulatory team at Cargill.
ALL THE BEST !