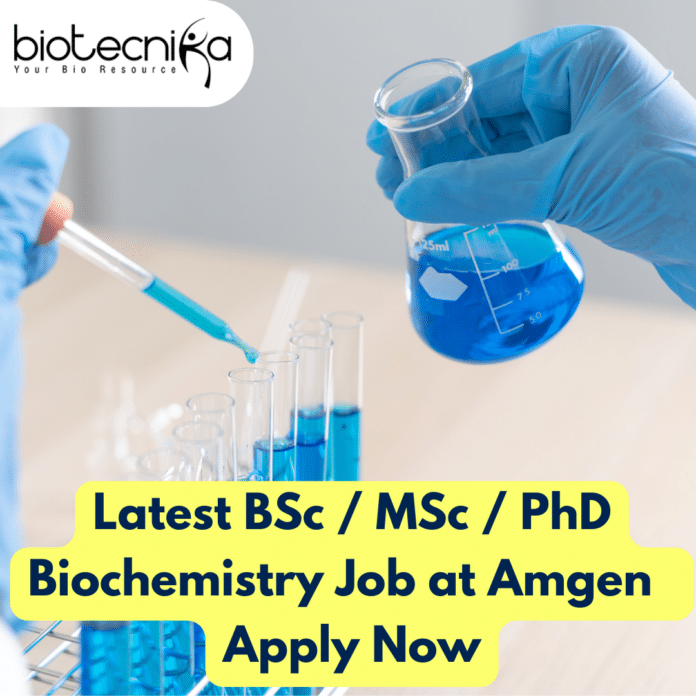 Latest BSc / MSc / PhD Biochemistry Job at Amgen – Check out the details and apply below
Role : Principal Scientist – Molecular Analytics
Employer : Amgen
Location : Thousand Oaks, CA
Discipline : Science/R&D, Biotechnology
Required Education : Bachelors Degree
Position Type : Full time
What you will do
In this vital role you will be part of the Molecular Analytics group providing scientific and technical expertise to support early discovery research through to later stage molecule optimization and late-stage selection of Amgens pipeline of drug candidates.
This position is an exciting opportunity to unlock the potential of biology for patients suffering from serious illnesses by discovering, developing, manufacturing and delivering innovative human therapeutics.
Execute assays to assess mAbs, MsAb and other biotherapeutic physical, chemical, thermal and colloidal stability and manufacturability using multiple analytical techniques, including, but not limited to, liquid chromatography methods such as aSEC, aCEX, aHIC, , rheology, calorimetry, self-interaction spectroscopy, light scattering and solubility assays
Perform intact mass analysis, glycan analysis, characterization etc. using LC-MS and LC-MS/MS peptide mapping capabilities to support early-stage pipeline. Implement and/ or develop sensitive high-throughput, low material consumption assays for biological attribute prediction
Generate, process and use large analytical data sets for the application of biomolecule attribute and manufacturability prediction and machine learning purposes
Manage timelines, therapeutic projects and cross functional teams and departmental collaborations
Develop collaborations with both internal and external partners. For example, clients in early research protein cloning, expression and purification; process development; university and external research institutes
Communicate (verbal and in written) scientific concepts and results
Work independently in advancing projects and studies within required deadlines
Keep current with field of expertise, participate and advance drug development, technologies and information services programs within Amgen
Demonstrate external scientific eminence in the form of peer-reviewed publications and conference presentations
Follow protocols and procedures, maintain accurate records in an electronic lab notebook, and generate quality data for use in drug development and regulatory filings
What we expect of you
The dynamic professional we seek is a scientist with these qualifications
Basic Qualifications:
Doctorate degree and 2 years of biopharmaceutical Analytical Chemistry, Biochemistry or equivalent
Masters degree and 5 years of biopharmaceutical Analytical Chemistry, Biochemistry or equivalent
Bachelors degree and 7 years of biopharmaceutical Analytical Chemistry, Biochemistry or equivalent
Preferred Qualifications:
PhD or Post-Doc level qualification with an emphasis in analytical characterization and biological attribute prediction.
Expertise in biophysical characterization of proteins to assess critical quality attributes
Deep understanding of protein aggregation, stability and manufacturability would an advantage Knowledge of statistical processing of data, including related software like RStudio and Jupyter Notebooks Excel, Spotfire, JMP or ArrayStudio
Knowledge of high-level data interpretation, ideally for molecule manufacturability will be advantageous. Knowledge of AI/ML processes is desirable
Knowledge of multiple chromatographic softwares (ChemStation, Chromeleon), Astra (SEC-MALS/QELLS), Tecan scripts (automation), TA and NanoTemper (calorimetry) software would be advantageous
Relevant experience working as part of a multidisciplinary team in a biopharmaceutical setting would also be an advantage
What you can expect of us:
As we work to develop treatments that take care of others, we also work to care for our teammates professional and personal growth and well-being.
The annual base salary range for this opportunity in the U.S. is $134,371 – $161,555
In addition to the base salary, Amgen offers a Total Rewards Plan comprising health and welfare plans for staff and eligible dependents, financial plans with opportunities to save towards retirement or other goals, work/life balance, and career development opportunities including:
Comprehensive employee benefits package, including a Retirement and Savings Plan with generous company contributions, group medical, dental and vision coverage, life and disability insurance, and flexible spending accounts.
A discretionary annual bonus program, or for field sales representatives, a sales-based incentive plan
Stock-based long-term incentives
Award-winning time-off plans and bi-annual company-wide shutdowns
Flexible work models, including remote work arrangements, where possible
Discover the Latest BSc / MSc / PhD Biochemistry Job at Biotecnika Global
Here are some interview questions along with possible answers for the role of Principal Scientist – Molecular Analytics at Amgen:
1. Can you briefly describe your experience in biopharmaceutical Analytical Chemistry or Biochemistry?
Answer: I hold a [insert degree] in [insert relevant field], and I have [insert number of years] of experience in biopharmaceutical Analytical Chemistry and Biochemistry. Throughout my career, I have been involved in [mention key responsibilities or projects], which has allowed me to develop a strong foundation in analytical techniques and the assessment of critical quality attributes of biopharmaceuticals.
2. Can you explain your experience with analytical techniques such as liquid chromatography, calorimetry, and light scattering, and how you have applied them to assess biopharmaceutical stability and manufacturability?
Answer: I have extensive experience in using a variety of analytical techniques, including liquid chromatography methods such as aSEC, aCEX, aHIC, as well as calorimetry and light scattering, to assess the physical, chemical, thermal, and colloidal stability of biopharmaceuticals. These techniques have been instrumental in characterizing proteins, assessing their aggregation behavior, and ensuring their manufacturability. For instance, I have used [mention specific technique] to [provide an example of its application].
3. How have you utilized high-throughput, low material consumption assays for biological attribute prediction in your previous work?
Answer: In my previous role, I developed and implemented high-throughput assays that required minimal material consumption to predict the biological attributes of biopharmaceuticals. These assays allowed us to efficiently assess key parameters, such as [mention specific attributes], in a cost-effective and time-efficient manner. For instance, I developed an assay that [describe the assay and its purpose].
4. Can you provide an example of a project where you managed timelines, cross-functional teams, and departmental collaborations?
Answer: Certainly. In my previous role at [mention previous company or organization], I led a project focused on [briefly describe the project goal]. I was responsible for managing timelines, coordinating efforts across different functional teams, and fostering collaborations both within our department and with external partners. As a result, we successfully [mention project outcomes or achievements].
5. How do you stay updated with advancements in your field, and can you share examples of how you've applied new technologies or information services to your work?
Answer: I am committed to staying current with advancements in the field of [mention relevant field], and I achieve this through a combination of continuous learning, attending conferences, and actively participating in professional networks. For instance, I recently [mention a recent learning or application of new technology] to enhance our approach to [mention relevant area of work].
Explore the Latest BSc / MSc / PhD Biochemistry Job at Biotecnika Global
ALL THE BEST!