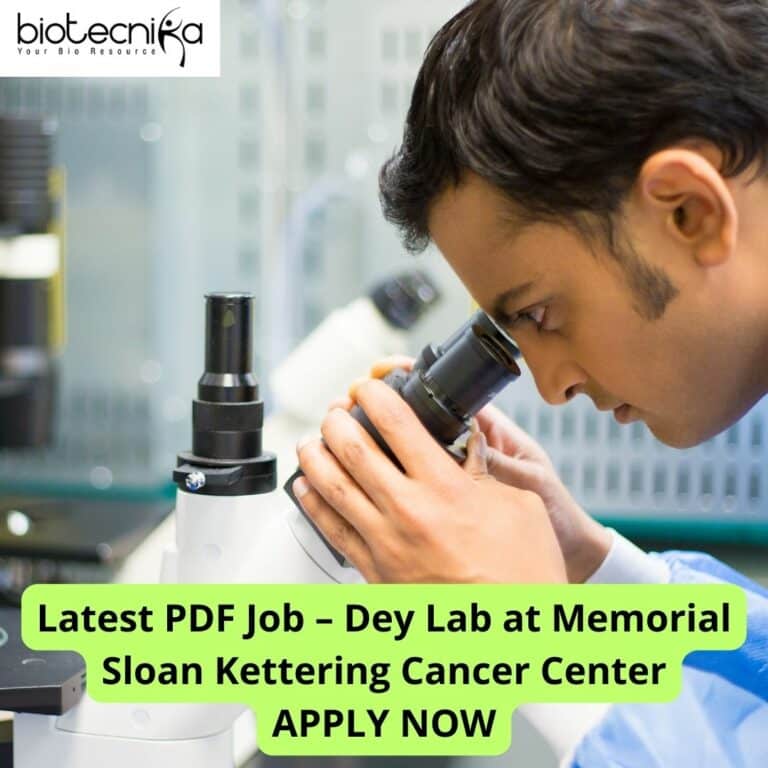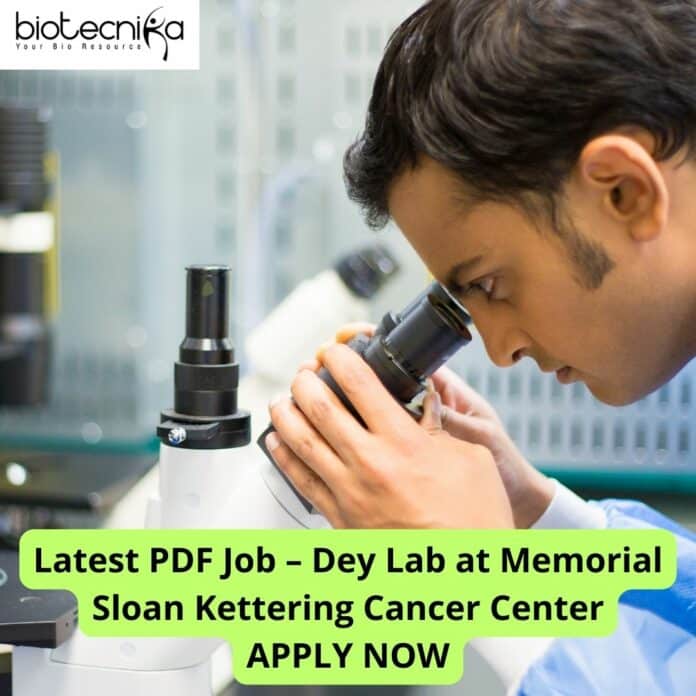 Latest PDF Job
Latest PDF Job. Latest Computational & Systems Biology Job. Interested and eligible candidates can check the details given below and apply online.
Job role: Postdoctoral Fellow, Computational & Systems Biology – Dey Lab at Memorial Sloan Kettering Cancer Center
Job ID: 2023-72162
Job location: USA-NY-New York
Category: Post-Doctoral
Pay Range: $55,439 – $100,940
Company Overview
The people of Memorial Sloan Kettering Cancer Center (MSK) are united by a singular mission: ending cancer for life. Our specialized care teams provide personalized, compassionate, expert care to patients of all ages. Informed by basic research done at our Sloan Kettering Institute, scientists across MSK collaborate to conduct innovative translational and clinical research that is driving a revolution in our understanding of cancer as a disease and improving the ability to prevent, diagnose, and treat it. MSK is dedicated to training the next generation of scientists and clinicians, who go on to pursue our mission at MSK and around the globe. One of the world's most respected comprehensive centers devoted exclusively to cancer, we have been recognized as one of the top two cancer hospitals in the country by U.S. News & World Report for more than 30 years.
Job Description
The Dey Lab in Computational & Systems Biology program at Memorial Sloan Kattering Cancer Center is seeking a postdoctoral fellow to lead inter-disciplinary collaborative projects jointly supervised by Dr. Dey and Dr. Gao Wang, Assistant Professor of Neurological Sciences, Columbia University, Department of Neurology (https://www.neurology.columbia.edu/profile/gao-wang-phd). The candidate will work to
Develop new methods in statistical genetics and machine learning/generative AI for integrating multimodal omics data (RNA-seq, ChiP-seq, ATAC-seq, Perturb-seq) with GWAS data to inform fine-mapping and polygenic risk score (PRS) predictions.
Develop new strategies for improving the transferability of the PRS across diverse ancestries using a combination of genetic data from diverse ancestries (AllofUS, MVP, UKBB).
Develop and apply integrative statistical/ML models to identify disease sub-phenotypes and perform patient risk stratification using multimodal data from Alzheimer's' patients as part of the ADSP project and different cancer types as part of the MSKCC sequencing cohort.
We welcome applications from candidates with an exceedingly strong quantitative background in statistics, biostatistics, computer science, or other related domains. The applicant would be required to have prior experience working with large-scale genetic and omics data, resulting in a high quality first/co-first author publication. The candidate must be proficient in computing, with expertise in R and/or Python. Prior background in machine learning or generative AI models will be a plus, but not required.
The candidate's primary affiliation will be through the Sloan Kettering Institute, MSKCC located on the Upper East Side of New York City. It is part of the vibrant Tri-Institutional Research campus adjacent to Rockefeller University and Weill Cornell Medical College. Sloan Kettering offers competitive postdoc salaries and convenient subsidized housing. The candidate will have office space in both the Computational and Systems Biology Program, MSKCC and Department of Neurology, Columbia University. The candidate will have weekly meetings with both Dr. Dey and Dr. Wang and will be working closely with collaborators from various consortia like ADSP, ENCODE, and IGVF.
To apply, please send a CV, a brief cover letter outlining your interest, and names/contact information for three references to both the following email addresses:
Salary: $55,439 – 100,940 (depending on postgraduate experience)
Closing
MSK is an equal opportunity and affirmative action employer committed to diversity and inclusion in all aspects of recruiting and employment. All qualified individuals are encouraged to apply and will receive consideration without regard to race, color, gender, gender identity or expression, sexual orientation, national origin, age, religion, creed, disability, veteran status, or any other factor which cannot lawfully be used as a basis for an employment decision.
Federal law requires employers to provide reasonable accommodation to qualified individuals with disabilities. Please tell us if you require a reasonable accommodation to apply for a job or to perform your job. Examples of reasonable accommodation include making a change to the application process or work procedures, providing documents in an alternate format, using a sign language interpreter, or using specialized equipment.
Stay in touch!
Register now to join Memorial Sloan Kettering's Talent Community to receive inside information on our organization and new job opportunities.
Here are four interview questions along with answers for the Latest PDF Job- Postdoctoral Fellow position in Computational & Systems Biology at Memorial Sloan Kettering Cancer Center:
1: Can you describe your experience working with multimodal omics data and its application in genetic research?
Answer: During my doctoral research at [Your University], I gained extensive experience in handling multimodal omics data, including RNA-seq, ChiP-seq, ATAC-seq, and Perturb-seq. I successfully integrated these diverse datasets to gain insights into complex genetic interactions. For instance, I collaborated on a project where we integrated RNA-seq and ChiP-seq data to identify regulatory elements in a specific genetic pathway. This experience has equipped me with the skills needed to develop new methods for integrating omics data with GWAS data, as outlined in the job description.
2: Could you share an example of a project where you used machine learning or generative AI models in your research?
Answer: Certainly. In my previous role as a research assistant at [Your Previous Institution], I utilized machine learning techniques to predict disease outcomes based on genomics data. I developed a predictive model that effectively identified sub-phenotypes within a disease population, leading to more personalized treatment strategies. While my expertise in machine learning is growing, I believe these skills will be valuable in developing and applying integrative statistical/ML models for patient risk stratification, as mentioned in the job description.
3: How do you ensure the reproducibility and reliability of your research findings when working with large-scale genetic and omics data?**
Answer: Maintaining the reproducibility and reliability of research findings is crucial, especially when dealing with complex datasets. I follow best practices, including thorough documentation of data preprocessing steps, code version control, and creating pipelines that are well-documented and easily shareable with team members. Additionally, I make use of established quality control measures and conduct rigorous statistical validation to ensure the accuracy of results. This commitment to data integrity is fundamental to producing high-quality research.
4: Collaboration is essential in interdisciplinary research. Can you provide an example of a collaborative project you've worked on and how you effectively contributed to the team's success?
Answer: Certainly. In my previous role, I was part of a multidisciplinary team working on a project involving the integration of genomic and clinical data to improve cancer diagnostics. My role was to analyze and interpret the genomic data. I ensured effective communication within the team by presenting my findings clearly and engaging in regular discussions with team members from diverse backgrounds, including clinicians and data scientists. This collaborative effort resulted in the development of a novel diagnostic tool that is now being further validated for clinical use, demonstrating my ability to contribute effectively to interdisciplinary research teams.
Latest PDF Job. Latest PDF Job at Dey Lab at Memorial Sloan Kettering Cancer Center.
Stay tuned on BIOTECNIKA GLOBAL for more job updates.