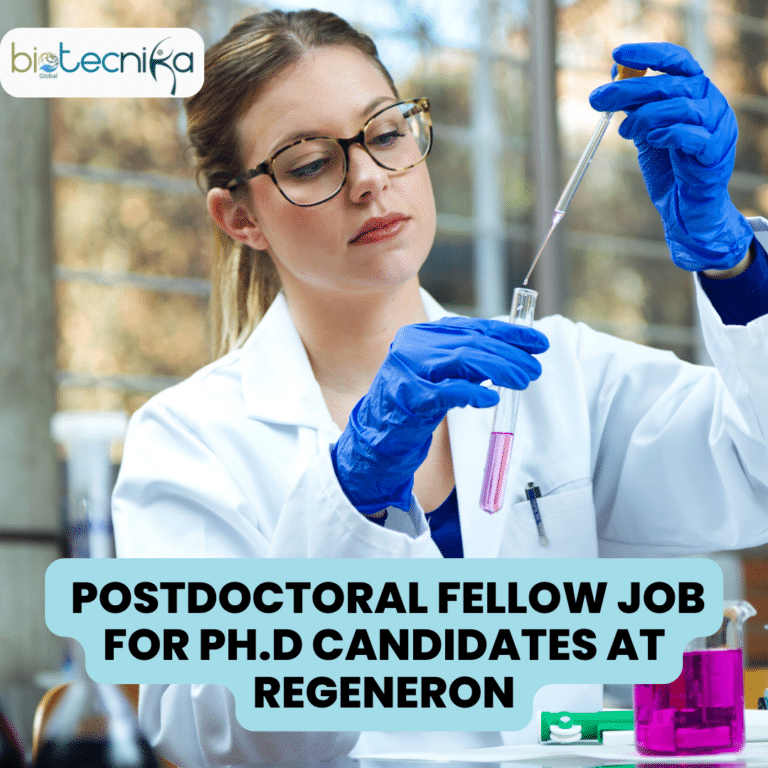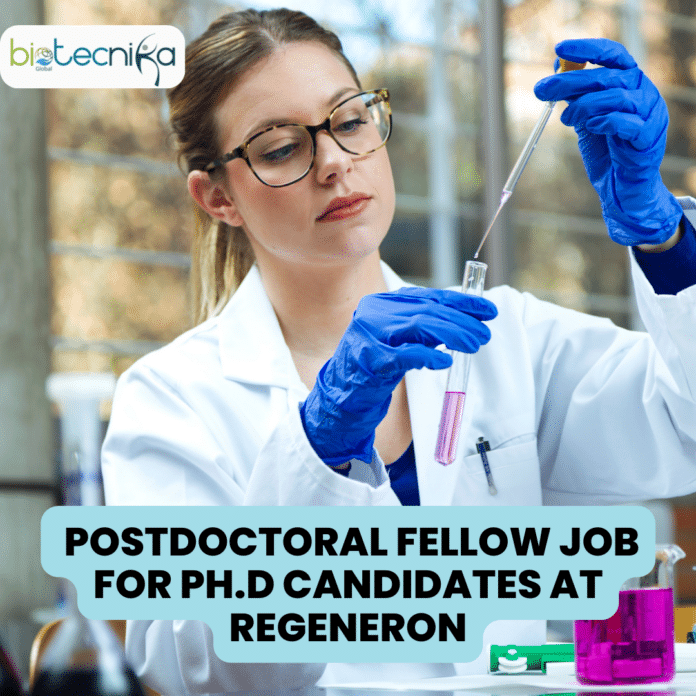 Regeneron Hiring Ph.D Candidates For Postdoctoral Fellow Position
Regeneron Hiring Ph.D Candidates For Postdoctoral Fellow Position. Regeneron is a leading biotechnology company that invents, develops, and commercializes life-transforming medicines for people with serious diseases. Regeneron Hiring Ph.D Candidates, Interested candidates check out the details below and Apply online
Job title: POSTDOCTORAL FELLOW
Job Location: Tarrytown, New York, United States of America
Job id: R25163
Job Category: Research & Preclinical Development
Job Type: Full Time
JOB DESCRIPTION
An exciting postdoctoral position in the Connective Tissue Diseases Therapeutic Focus Area is being offered, and applications are invited from highly qualified, innovative, and collaborative researchers with a curiosity for "outside of the box" thinking.
The mission will be to unravel the physiological roles of the type 1 Bone Morphogenetic Protein receptor ACVR1 and explore its signaling mechanisms.
ACVR1 is distinguished by the formation of two distinct complexes: a potent signaling complex with BMPs and a non-signaling complex with Activins. Distinct physiological roles have been indicated by preliminary findings regarding these complexes. To delve deeper, advanced tools have been developed to dissect them both in vitro and in vivo. A comprehensive understanding of the functions of each complex is aimed for, with the goal of redefining therapeutic strategies for diseases involving ACVR1 and related receptors.
If you are ready to make an impact and embark on an outstanding scientific journey, applications are encouraged to be submitted. Joining the team of driven researchers will allow for the secrets of connective tissue diseases to be unlocked and pave the way for innovative treatments.
As a Postdoc, a typical day may include:
 In vitro studies, bioassay development, and signaling pathway analysis being crafted, planned, and performed/supervised independently.
 Basic molecular biology techniques being applied and expertise in cell culture, including immortalized and embryonic stem cell lines, being demonstrated.
 Animal experimentation, tissue dissection, and sample collection for analysis being performed.
 Designing and leading all aspects of advanced flow cytometry (FACS) panels, as well as utilizing imaging methodologies such as confocal microscopy. Familiarity with techniques for visualizing receptor location and trafficking is highly desirable.
 Collaboration with cross-functional teams, presentation of compiled results, documentation of procedures, and contribution to publications and conference presentations.
 Continuous tracking of the current relevant literature, attendance at scientific meetings, and maintenance of expertise in the field of BMP/TGFß signaling and corresponding biology, as well as new areas as needed.
 Participation in post-doctoral program activities (e.g., weekly meetings and annual research conference).
Groundbreaking research being published and presented at conferences.
This role may be suitable for individuals who:
 Possess a strong desire to contribute to groundbreaking discoveries challenging existing notions of BMPs and TGFßs signaling.
 Demonstrate self-motivation, creativity, and a successful background in signal transduction, preferably with experience in laboratory mouse experimentation. Relevant publications, a passion for basic research, and an interest in translational opportunities are valued.
 Showcase outstanding scientific skills, including critical and analytical thinking.
 Exhibit strong communication and presentation abilities.
 Possess excellent organizational and time management skills, effectively handling multiple tasks and prioritizing them.
 Display creativity, independence, and the ability to thrive in cross-functional team projects.
To be considered for this role, a Ph.D. in biochemistry, cell biology, developmental biology, or molecular biology is required. Hands-on experience in techniques such as flow cytometry, microscopy, cell culture, and mouse experimentation is necessary. Expertise in imaging methodologies is highly desired. The opportunity to lead a research project in a fast-paced and results-driven environment will be provided.
Please note that the specific starting salary for this role is $86,000.
If this opportunity aligns with your qualifications and interests, you are encouraged to apply to take the first steps toward living the Regeneron Way! The inclusive and diverse culture at Regeneron provides comprehensive benefits, including health and wellness programs, fitness centers, equity awards, annual bonuses, and paid time off for eligible employees at all levels.
Regeneron is an equal opportunity employer, and all qualified applicants will receive consideration for employment without regard to race, color, religion or belief (or lack thereof), sex, nationality, national or ethnic origin, civil status, age, citizenship status, membership of the Traveler community, sexual orientation, disability, genetic information, familial status, marital or registered civil partnership status, pregnancy or parental status, gender identity, gender reassignment, military or veteran status, or any other protected characteristic in accordance with applicable laws and regulations. Reasonable accommodations will be provided to individuals with disabilities to facilitate their participation in the job application process.
The salary ranges provided are shown in accordance with U.S. law and apply to U.S. based positions, where the hired candidate will be located in the U.S. If you are outside the U.S, please speak with your recruiter about salaries and benefits in your location.
Salary Range (annually) : $69,500.00 – $113,500.00
Regeneron Hiring Ph.D Candidates For Postdoctoral Fellow Position. Here are five interview questions and answers :
1. Question: Can you describe your experience with advanced flow cytometry (FACS) panels and imaging methodologies, such as confocal microscopy? How have you used these techniques in your previous research?
Answer: In my previous research, I have extensive experience in designing and conducting advanced flow cytometry (FACS) panels to analyze cellular markers and in using imaging methodologies like confocal microscopy to visualize cellular processes. For example, in my doctoral research, I utilized FACS to assess the expression of specific receptors on immune cells, enabling us to characterize their activation states. Additionally, I employed confocal microscopy to investigate cellular localization and trafficking of key molecules, providing critical insights into signaling pathways.
2. Question: The job description emphasizes the importance of collaboration with cross-functional teams. Could you provide an example of a project where you collaborated effectively with colleagues from different disciplines to achieve a common research goal?
Answer: Certainly. In a previous project focused on understanding the role of a specific receptor in cancer progression, I collaborated closely with researchers from diverse backgrounds, including molecular biology, bioinformatics, and oncology. Our interdisciplinary team allowed us to combine expertise in genetics, cell biology, and computational analysis. Together, we successfully identified novel signaling pathways associated with the receptor, which ultimately led to the development of potential targeted therapies.
3. Question: The role mentions the need for continuous tracking of current relevant literature. How do you stay updated with the latest advancements in the field of BMP/TGFß signaling and related biology?
Answer: Staying current with scientific literature is crucial in my approach to research. I regularly subscribe to relevant scientific journals and newsletters, which provide me with the latest research articles and breakthroughs in BMP/TGFß signaling. I also attend national and international scientific conferences and seminars, where I engage in discussions with experts in the field and gain insights into emerging trends and technologies. This proactive approach helps me integrate cutting-edge knowledge into my research projects.
4. Question: The job application highlights the importance of creativity and independent thinking. Can you provide an example of a research challenge where you applied creative problem-solving to achieve a breakthrough?
Answer: In a project investigating the resistance mechanisms of cancer cells to a targeted therapy, we encountered a significant roadblock. Despite extensive testing, we couldn't pinpoint the underlying cause. To address this challenge, I proposed an unconventional approach by combining single-cell RNA sequencing with machine learning algorithms to analyze the gene expression profiles of individual cells within the tumor. This creative solution enabled us to identify a rare subpopulation of cells with unique gene signatures responsible for resistance—a breakthrough that opened new avenues for therapeutic interventions.
5. Question: Collaboration and communication skills are mentioned as essential. Can you provide an example of a time when you effectively communicated complex scientific findings to both technical and non-technical audiences?
Answer: In a collaborative project, I had the opportunity to present our research findings to a diverse audience, including fellow researchers, clinicians, and stakeholders from pharmaceutical companies. To ensure effective communication, I prepared a clear and concise presentation that included visual aids to illustrate key points. During the presentation, I used non-technical language to explain complex scientific concepts, making the information accessible to all attendees. This approach facilitated productive discussions and fostered a shared understanding of our research's potential implications and applications.