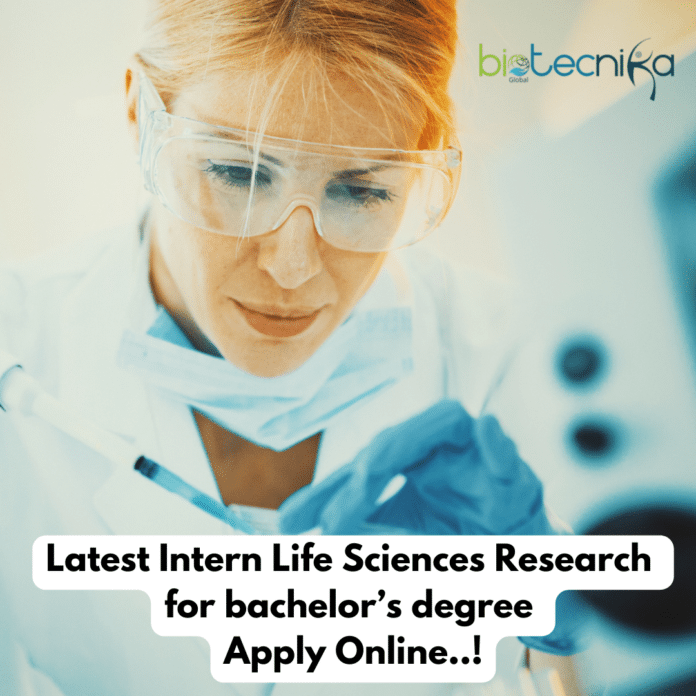 Job position: Intern – Life Sciences Research
Job ID: Req #736
Job Location: MRIGlobal, 425 Dr Martin Luther King Jr Blvd, Kansas City, Missouri, United States of America
Are you passionate about making the world better? Are you looking for an organization that aligns with your values?
MRIGlobal solves challenging problems through science, engineering, and program management. We are an independent scientific
research
organization dedicated to benefiting society and fostering a safe, healthy, and sustainable environment.
When you embark on a career with MRIGlobal, you are joining a crew of world-class talent and problem solvers. Established in 1944, MRIGlobal is headquartered in Kansas City, MO, working in several states including Virginia and Maryland.
Basic Function
Provides technical support to the Life Sciences unit. Primary responsibilities include assisting in the operations of the department with direct project work. Conducts technical tasks and laboratory experimentation under general supervision using established or project-specific protocols and SOPs. Conducts experimental work on projects following established protocols and procedures. Contributes to developing test plans, experimental designs, and analytical methods.
Nature and Scope according to educational
This position reports to the manager and may receive direction from other staff within the department. This position is expected to work on tasks both independently and as a team member, and with other technical and administrative staff at various levels.
Essential Functions
Provides technical and general support to the department by providing basic analytical skills and conducting sample preparation and analysis.
Effectively communicates expectations, assesses client needs, gain acceptance of an idea/plan/activity/product.
Is organized and methodical, yet flexible in adjusting priorities, and able to take risks to accomplish goals.
Success Factors
Possess excellent interpersonal, communication, and organizational skills.
Ability to handle multiple tasks, work within and meet deadlines, pay attention to detail and work in a team environment.
Exhibit a high degree of professionalism and ability to maintain confidentiality.
Proficient computer skills with the ability to learn new software and systems.
Minimum Qualifications for Sciences Research :
Current student working towards or has achieved a high school diploma, general education degree (GED), or equivalent OR undergraduate student pursuing bachelor's degree.
Coursework in biology, biochemistry, molecular biology, veterinary science, and related fields.
Knowledge and/or experience in a laboratory environment, basic laboratory and analytical skills, and a solid scientific educational background with laboratory coursework.
WHAT WE OFFER for Sciences Research

At MRIGlobal, we offer benefits and perks that make your life even better.
Your Well-Being: You can receive comprehensive coverage for you and your family, as well as support through our onsite gym or discounted memberships. Feel great with virtual coaching, no-cost counseling, onsite screenings, and chair massages (HQ). MRIGlobal has received multiple wellness recognitions.
A Bright Future: MRIGlobal offers award-winning employer retirement matches and no-cost financial education benefits. Get paid Parental Leave. Enjoy PTO and a flexible culture that encourages work-life integration for educational.
Personal Development: At MRIGlobal, you will enjoy diverse work that will grow your skills set, along with a tuition reimbursement option to pay for higher education.
A Genuine Community: MRIGlobal is a special workplace. From our Chili Cook-offs, Pi Day, and charitable giving opportunities, our traditions strengthen our team spirit. Join our DEI celebrations and volunteer in initiatives that nurture future STEM generations.
To view all of MRIGlobal's current openings and to ensure that we receive your resume, visit our Career page.
EOE, including disability/vets. As an organization dedicated to scientific advancement, MRIGlobal invites and embraces diversity in our people. We value their unique backgrounds and perspectives in every aspect of our mission. We are committed to creating a safe, welcoming, and inclusive environment where everyone feels respected and represented, fostering a culture where all input is welcome. We adapt to change, challenge the status quo, and evolve through belonging, allyship, and mutual support.
Possible interview questions may be asked for Sciences Research
1. Can you tell me a bit about yourself and your educational background?
Answer: My educational I'm currently a [mention your current status, e.g., "undergraduate student pursuing a bachelor's degree"]. My coursework has been primarily focused on biology, biochemistry, molecular biology, and related fields.
2.  That sounds like a strong academic foundation. Can you share any experience you have in a laboratory environment?
Answer: Absolutely. I've had the opportunity to gain hands-on experience in a laboratory setting during my coursework. I've worked on various experiments, conducted sample preparation, and performed basic laboratory and analytical tasks. This experience has given me a solid understanding of laboratory protocols and procedures.
3. The role involves providing technical and general support to the department. Can you describe any experiences that demonstrate your analytical skills or ability to work in a laboratory?
Answer: Certainly. In one of my laboratory courses, I was responsible for conducting experiments following established protocols. This required attention to detail, precision in sample preparation, and accurate data recording. I also collaborated with my peers and lab instructors, which improved my ability to work as part of a team.
4.  Collaboration is essential in our work. Can you give me an example of a project or task where you worked effectively as part of a team?
Answer: Absolutely. In a recent group project, we were tasked with researching and presenting findings on a complex biological topic. Each team member had a specific area to investigate, and we had to coordinate our efforts to ensure a cohesive presentation. Through effective communication and collaboration, we delivered a successful presentation.
5. That's a valuable experience. Our team often deals with various tasks simultaneously. How do you handle multiple tasks and deadlines educational?
Answer: I've learned to manage my time efficiently to meet deadlines. I prioritize tasks based on their importance and deadlines, and I'm not afraid to ask for help or delegate when necessary. Staying organized and focused helps me handle multiple tasks effectively.