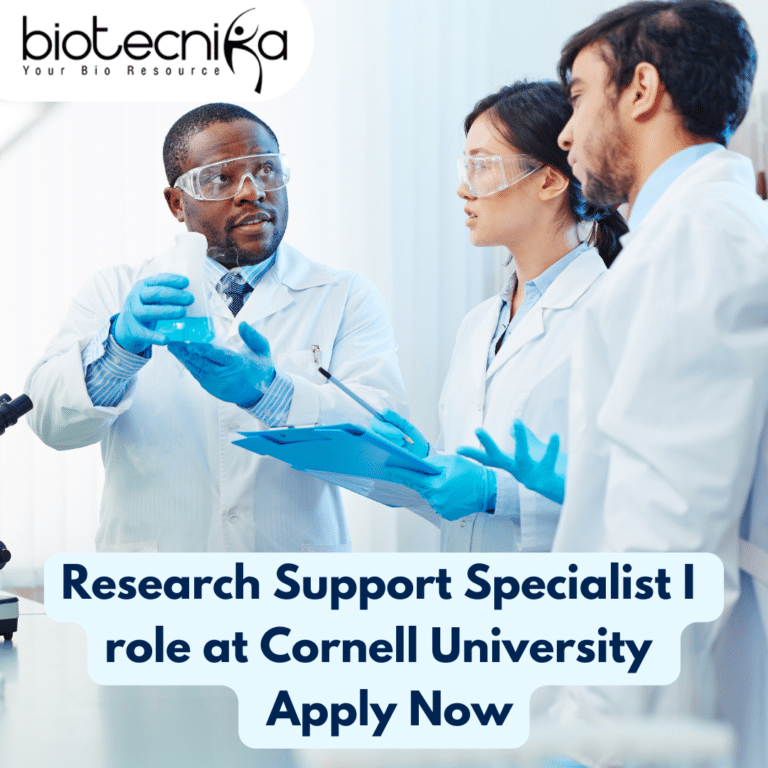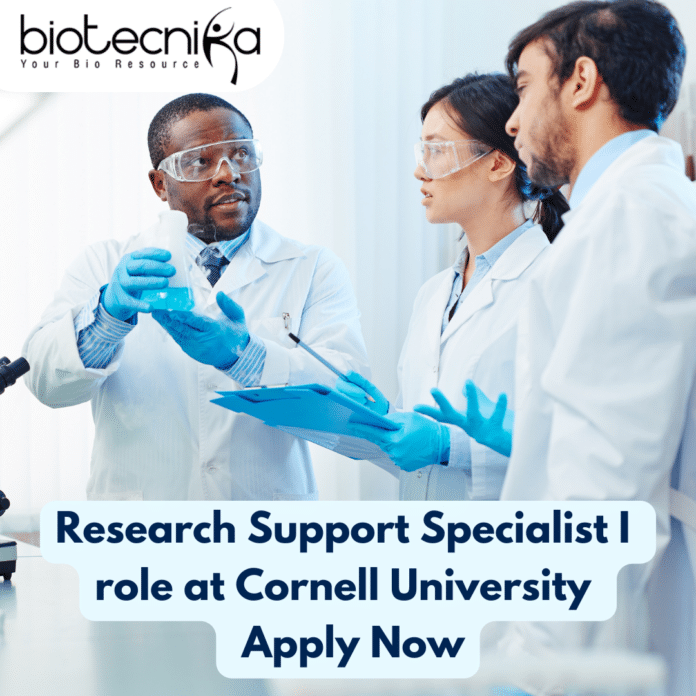 Research Support Specialist I role at Cornell University – Check out the details below and  Apply Now
Role : Research Support Specialist I – Johannes Lehmann's Lab
Mode : Hybrid Remote
Position Summary:
While position responsibilities vary, every member of our community is expected to foster a culture of belonging and a psychologically healthy work environment by communicating across differences.
Being cooperative, collaborative, open, and welcoming.
Showing respect, compassion, and empathy.
Engaging and supporting others regardless of background or perspective.
Speaking up when others are being excluded or treated inappropriately.
Supporting work/life integration of oneself and others.
Summary of position responsibilities:
The position is located in the Section of Soil and Crop Sciences within the School of Integrative Plant Science (SIPS) at Cornell University.
The incumbent will support research and development of pyrolysis and biochar, may conduct active research in collaboration with students, and will be responsible for some outreach activities.
Research will include, but is not limited to, understanding mass and energy balances of pyrolysis bioenergy, biochar properties, system performance, and greenhouse gas emissions to provide information about opportunities to mitigate climate change, improve food security and reduce environmental pollution.
Work will include gas, liquid and solid analyses using standard as well as advanced analytical equipment, programming, running and repairing modern pyrolysis plants and ensuring its regulatory compliance including relevant reporting.
NOTE :
1. Visa Sponsorship is not available for this position.
2. Relocation assistance will not be provided for this position.
Required Qualifications:
BSc degree in engineering, biogeochemistry, materials handling or related discipline and 2 to 4 years of relevant experience or equivalent combination
Practical skills in operating advanced pyrolysis equipment.
Interest and experience in addressing environmental issues, climate change mitigation, food security, waste management and research bridging natural sciences and engineering.
Strong interpersonal skills and ability to conduct an outreach program are needed.
Experience working directly with people from diverse racial, ethnic, and socioeconomic backgrounds.
Passionate about working in an organization that values and promotes diversity, equity, inclusion, anti-racism, and wellbeing.
Preferred Qualifications:
MSc degree in engineering, biogeochemistry, materials handling or related discipline.
Skills in systems modeling, data analysis in R, grant and publication writing.
EXPLORE BIOTECNIKA GLOBAL FOR MORE JOB OPPORTUNITIES
Here are some interview questions and answers for the role of Research Support Specialist I at Cornell University:
1. Can you briefly describe your educational background and your relevant experience in the field of pyrolysis and biochar research?
Answer: "I have a Bachelor's degree in [mention your field] and [mention the number of] years of experience in pyrolysis and biochar research. During my academic and professional journey, I have had the opportunity to work on [mention specific projects or research areas] that have provided me with valuable insights and practical skills in this field."
2. Can you share your experience in operating advanced pyrolysis equipment and your role in ensuring regulatory compliance in this regard?
Answer: "Certainly. In my previous role at [mention previous organization], I was responsible for operating advanced pyrolysis equipment for various research projects. This included programming, maintenance, and ensuring compliance with relevant regulations. I am well-versed in the safe and efficient operation of such equipment and understand the importance of compliance with environmental and safety standards."
3. The role involves conducting outreach activities. Can you provide examples of outreach initiatives or programs you've been involved in, particularly those related to environmental issues and sustainability?
Answer: "I have a passion for outreach and have organized several initiatives related to environmental issues. For instance, I collaborated with [mention organization or group] to conduct workshops on sustainability practices and biochar utilization. These workshops aimed to educate the community about the benefits of biochar and its role in mitigating climate change. I also have experience in presenting research findings to diverse audiences, including those from different backgrounds and socioeconomic groups."
4. How do you plan to contribute to the research and development of pyrolysis and biochar in Johannes Lehmann's Lab, particularly in the context of addressing climate change and environmental pollution?
Answer: "My goal is to actively contribute to ongoing research projects in the lab by applying my expertise in pyrolysis and biochar. I will collaborate with students and researchers to conduct experiments and analyses aimed at understanding mass and energy balances, biochar properties, and greenhouse gas emissions. By doing so, I hope to provide valuable insights that contribute to our efforts in mitigating climate change, enhancing food security, and reducing environmental pollution."
5. Could you share an example of a situation where you had to work with a diverse group of individuals and how you ensured effective collaboration and communication within the team?
Answer: "In my previous position, I worked on a research project that involved a diverse team of researchers from different backgrounds and disciplines. To foster effective collaboration, I initiated regular team meetings to ensure open communication and shared understanding of project goals. I actively listened to team members' perspectives, respected their contributions, and created an inclusive environment where everyone felt valued. This approach led to successful teamwork and positive outcomes for the project."
ALL THE BEST!