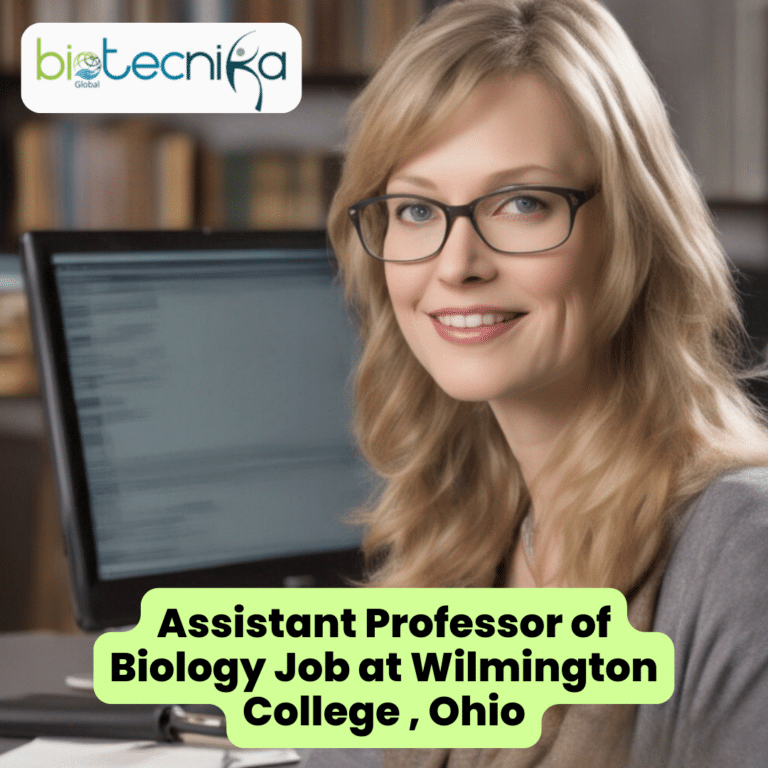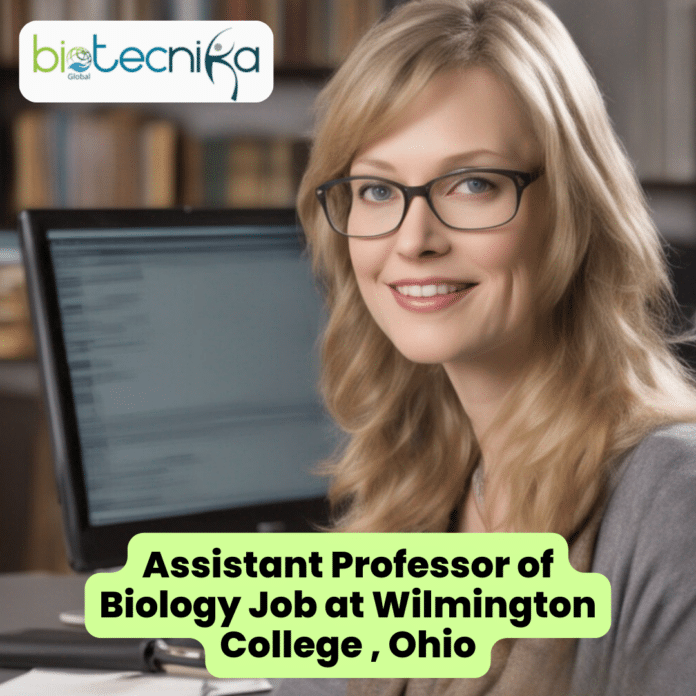 Assistant Professor Job at Wilmington College 
Wilmington College Hiring Ph.D. Candidates For Assistant Professor Job At Ohio. Assistant Professor Job at Wilmington College. Interested and eligible applicants can check out all of the details on the same below:
Name of the Post: Assistant Professor of Biology
Job Location: Wilmington, Ohio
Job Company: Wilmington College

Job Type: Full Time
The Department of Biology at Wilmington College is seeking a broadly trained biologist who complements existing faculty expertise. This is a full-time, 9-month, tenure-track position as an Assistant Professor of Biology, beginning January 2024. Candidates who will work collegially and effectively with faculty, students, staff, administrative colleagues, and alumni are being sought. The successful candidate will be responsible for teaching lecture and laboratory sections of the freshman biology sequence as well as upper division courses from the following list: Comparative Vertebrate Anatomy & Physiology, Bioethics, Human Biology, and Microbiology & Immunology. Exact teaching assignments will depend on the candidate selected. Undergraduate capstone research projects will be mentored by the candidate.
Construction of a new science facility, featuring modern teaching labs, a shared research lab, and an animal and plant research facility, was recently completed by Wilmington College.
Qualifications:
 A Ph.D. is required.
 Experience teaching biology at the college level is necessary.
 Familiarity with the small college environment is preferred.
Strong interpersonal skills are expected.
To apply, a letter of interest, current CV, statement of teaching philosophy, copy of unofficial transcripts, and the names and contact information of at least three professional references should be submitted.
Wilmington College is an equal opportunity employer, and employment matters will not be unlawfully discriminated against on the basis of race, religion, gender, color, ancestry, national origin, age, disability, or any other category protected by law.
A competitive compensation package, including group medical, dental, vision, life, and disability, a retirement plan, paid holidays, vacation and sick days, is offered by Wilmington College. Additionally, tuition remission benefits, free admission to athletic and theatrical events, and discounted meals and bookstore items are provided.
Background investigations, including criminal, work history, and credential confirmation, are conducted by Wilmington College on all employees as a condition of continued employment. Some positions may require additional motor vehicle record review and drug screening. Documentation for proof of eligibility to work in the United States must be provided.
The review of applications will begin immediately and remain open until the position is filled.
Here are five Possible interview questions along with possible answers for Assistant Professor Job at Wilmington College  :
1. Question: Can you elaborate on your experience teaching biology at the college level, and how it has prepared you for the role of Assistant Professor of Biology at Wilmington College?
Answer: I have had the privilege of teaching biology at the college level for [mention number of years], which has allowed me to develop a strong foundation in pedagogy and curriculum development. In this capacity, I've designed and delivered courses that not only cover the core principles of biology but also engage students through hands-on laboratory experiences. This experience has honed my ability to facilitate student learning and foster a passion for biology. I am eager to bring this expertise to Wilmington College and contribute to the academic growth of its students.
2. Question: The job description mentions mentoring undergraduate capstone research projects. Can you share your approach to mentoring students in research and the types of research projects you have supervised in the past?
Answer: Mentoring undergraduate research is a rewarding aspect of academia for me. I believe in providing students with opportunities to explore their interests and develop critical research skills. In the past, I have supervised research projects ranging from [mention specific research topics or areas], allowing students to gain valuable hands-on experience. My approach involves setting clear research goals, providing guidance, and fostering a collaborative learning environment where students can thrive and contribute meaningfully to scientific inquiry.
3. Question: Wilmington College emphasizes a small college environment. How do you envision yourself fitting into this academic setting, and what unique contributions do you believe you can bring to the biology department?
Answer: I believe that my experience and teaching philosophy align well with Wilmington College's emphasis on a small college environment. I value close faculty-student interactions, personalized guidance, and fostering a sense of community within the department. My adaptability and willingness to collaborate make me well-suited for this setting, where I can contribute to the department's growth and engage actively with students. I aim to create a dynamic and inclusive learning environment that inspires curiosity and critical thinking.
4. Question: Can you describe your teaching philosophy and how it aligns with the responsibilities of this Assistant Professor role, which includes teaching a freshman biology sequence and upper division courses?
Answer: My teaching philosophy revolves around active learning, critical thinking, and student engagement. I believe that biology education should not only convey foundational knowledge but also instill a sense of curiosity and a desire for lifelong learning. In the context of this role, I am excited to teach both the foundational freshman biology sequence, where I can lay a strong conceptual foundation, and upper division courses like [mention specific courses], where I can delve deeper into specialized topics and mentor students in their capstone projects. My approach will be to create a supportive and intellectually stimulating classroom environment.
5. Question: Wilmington College values strong interpersonal skills. Can you provide an example of a situation where your interpersonal skills played a crucial role in your academic or professional interactions, and how you believe these skills will benefit your role at the college?
Answer: Interpersonal skills have been integral to my academic and professional journey. In my previous role, I led a collaborative research project involving multiple departments, which required effective communication and teamwork. Additionally, I have worked closely with students from diverse backgrounds, tailoring my teaching approach to individual needs. At Wilmington College, I see these interpersonal skills enabling me to build positive relationships with colleagues, students, and staff. I am committed to fostering a welcoming and inclusive academic environment where open communication and collaboration thrive.