Top 10 Biotech Companies – In recent years, the biotechnology industry has witnessed remarkable growth and innovation, making it a hotspot for individuals seeking international career opportunities. Whether you are a scientist, researcher, or professional in the biotech field, working abroad can provide you with a global perspective, exposure to cutting-edge technologies, and the chance to collaborate with top minds in the industry. To kickstart your biotech career on an international stage, here are the top 10 biotech companies to watch out for:
Genentech (Roche Group):
Location: South San Francisco, USA
Known for groundbreaking work in oncology and biologics, Genentech offers a diverse range of job opportunities in research, development, and commercialization.
Amgen:
Location: Thousand Oaks, California, USA
As a pioneer in biopharmaceuticals, Amgen focuses on areas like oncology, nephrology, and inflammation. It offers a multitude of roles in research, manufacturing, and marketing.
Biogen
Location: Cambridge, Massachusetts, USA
Biogen specializes in neurology and is renowned for its work in multiple sclerosis and neurodegenerative diseases. Job openings span research, clinical development, and commercialization.
Gilead Sciences:Location: Foster City, California, USAGilead is a leader in antiviral drugs, with a focus on HIV/AIDS and hepatitis. It provides career opportunities in research, development, and global health initiatives.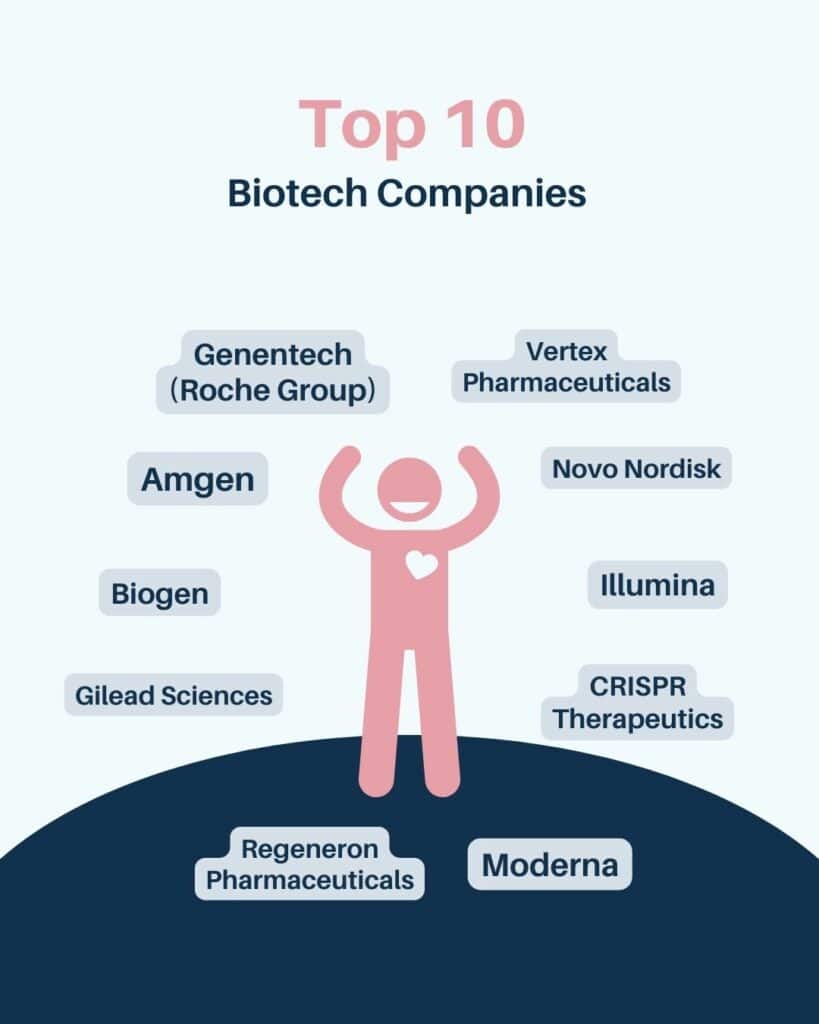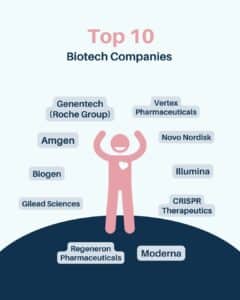 Regeneron Pharmaceuticals:Location: Tarrytown, New York, USA
Regeneron is known for its innovative approaches to drug discovery, particularly in monoclonal antibodies and gene editing. It offers roles in various scientific disciplines.Vertex Pharmaceuticals:Location: Boston, Massachusetts, USAVertex specializes in developing drugs for cystic fibrosis and other genetic diseases. Job opportunities are available in research, clinical development, and commercialization.Novo Nordisk:Location: Bagsværd, DenmarkNovo Nordisk is a global healthcare company focusing on diabetes care and other chronic diseases. Career paths include research, production, and commercial roles.Illumina:Location: San Diego, California, USAIllumina is a leader in genomics and DNA sequencing technologies. It offers careers in genetics, genomics, and bioinformatics.CRISPR Therapeutics:Location: Zug, SwitzerlandAs a leader in gene editing technologies, CRISPR Therapeutics is at the forefront of genetic medicine. It provides roles in gene editing research and development.Moderna:Location: Cambridge, Massachusetts, USAModerna gained global recognition for its mRNA technology, especially in COVID-19 vaccines. The company offers career opportunities in mRNA research and vaccine development.Job positions typically provided by the mentioned biotech companies:Genentech (Roche Group):
Research Scientist
Clinical Research Associate
Bioprocess Engineer
Regulatory Affairs Specialist
Medical Science Liaison
Data Scientist (Bioinformatics)
Quality Control Analyst
Product Manager
Sales Representative (Pharmaceuticals)
Amgen:
Senior Research Scientist
Manufacturing Technician
Clinical Project Manager
Regulatory Affairs Manager
Biostatistician
Medical Writer
Process Development Engineer
Market Research Analyst
Quality Assurance Specialist
Biogen:
Neuroscientist
Clinical Research Coordinator
Drug Safety Specialist
Medical Affairs Manager
Bioprocess Technician
Clinical Data Manager
Medical Science Liaison (Neurology)
Bioinformatics Analyst
Biotechnology Sales Specialist
Gilead Sciences:
Virologist
Drug Discovery Scientist
Hepatology Researcher
Clinical Trial Manager
Epidemiologist
Global Health Specialist
Medical Affairs Associate
Quality Control Chemist
Health Economics Analyst
Regeneron Pharmaceuticals:
Monoclonal Antibody Scientist
Gene Editing Researcher
Drug Formulation Scientist
Clinical Data Coordinator
Process Development Technician
Regulatory Affairs Associate
Biostatistics Analyst
Immunology Research Scientist
Product Development Manager
Vertex Pharmaceuticals:
Cystic Fibrosis Researcher
Clinical Pharmacologist
Drug Safety Officer
Bioprocess Scientist
Clinical Research Manager
Quality Assurance Inspector
Computational Biologist
Market Access Manager
Manufacturing Supervisor
Novo Nordisk:
Diabetes Research Scientist
Endocrinologist
Pharmaceutical Sales Representative
Clinical Trials Coordinator
Diabetes Educator
Process Engineer (Pharmaceuticals)
Regulatory Affairs Specialist
Medical Science Liaison (Endocrinology)
Quality Control Analyst
Illumina:
Genomic Scientist
Bioinformatician
Sequencing Technician
Product Manager (Genomics)
Research and Development Engineer
Biotechnology Sales Representative
Clinical Genomics Specialist
Data Analyst (Bioinformatics)
Technical Support Specialist
CRISPR Therapeutics:
Gene Editing Scientist
Research Associate (Genome Editing)
Cell Culture Technician
Regulatory Affairs Manager
Bioprocess Engineer (Gene Editing)
Bioethicist
Quality Assurance Specialist
Project Manager (CRISPR Research)
Intellectual Property Analyst
Moderna:
mRNA Scientist
Vaccine Researcher
Clinical Trial Coordinator
Regulatory Affairs Associate
Bioprocess Technician (mRNA)
Medical Affairs Manager
Data Scientist (Bioinformatics)
Market Access Specialist
Drug Safety Officer
These biotech giants not only contribute significantly to advancements in healthcare but also offer a multitude of job opportunities for individuals looking to make a mark in the field. When pursuing a job abroad, it's essential to research each company's focus areas, locations, and job openings. Networking, staying updated with industry trends, and proactively applying for positions can help you secure an exciting international career in biotechnology. By aligning your expertise with these top companies, you can embark on a fulfilling global biotech journey.Top 10 Biotech Companies