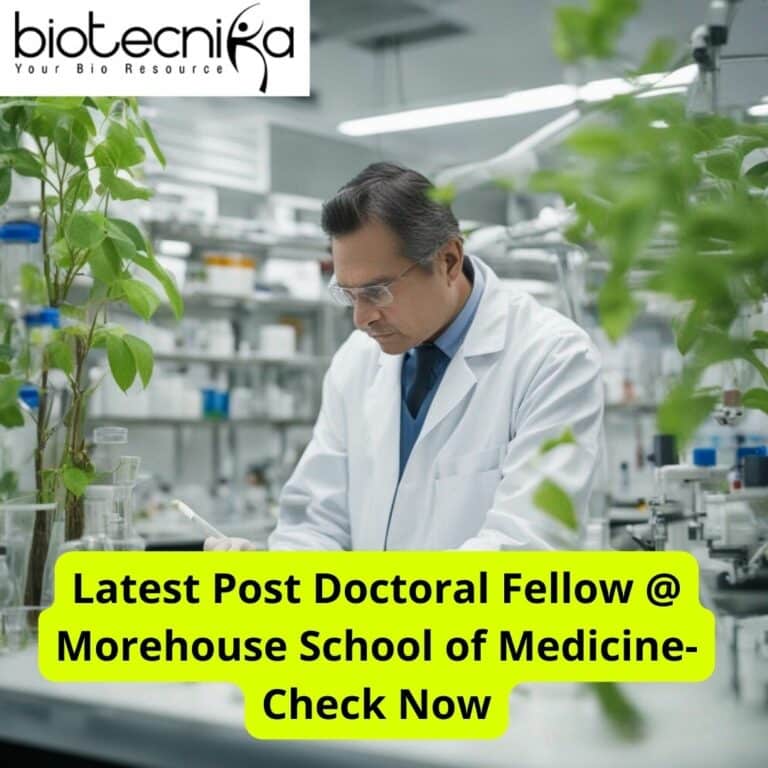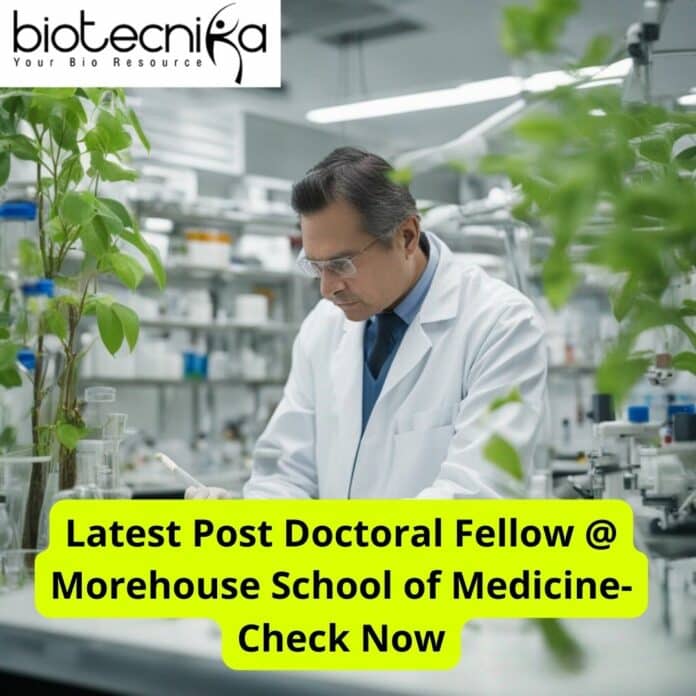 Latest PhD Jobs
Latest PhD Jobs-Postdoctoral Fellow @ Morehouse School Of Medicine-Apply Now
Job Title: Postdoctoral Fellow
Position Type: Non-Faculty
Number of vacancies: 2
Salary: Commensurate with experience
Department: Micro/Biochem/Immun (MBI)
The Powell Virology is seeking to grow by the addition of a new postdoctoral fellow to investigate a protein we call MoMo30 from the plant Momordica balsamina used in traditional African medicine for the treatment of HIV/AIDS. Our preliminary data shows that MoMo30 has a broad activity against enveloped viruses. We are looking for someone who is interested in helping determine how exposure to MoMo30 alters the glycosylation pattern of HIV-1 gp 120. The selected candidate will join a an actively growing program to investigate traditional treatments (The Natural Products Center)
Job Duties:
90% Research – Design and execution of scientific projects
Carrying out original research relative to the laboratory mission. Advance research that pertains to current research topics at the lab, particularly the induced effects of MoMo30 on the glycosylation pattern and immunogenicity of gp120. Work with other lab researchers to implement and consolidate data into presentable formats. Plan and implement scientific studies.
5% Reporting – Write reports and papers
Writes technical reports and scientific papers for peer reviewed journals. Additional responsibilities include assisting in the preparation of preparation of grants/contracts and proposals.
5% Collaboration – Work with other laboratory members and research collaborators with scientific projects
Skills and Competencies Required:
Ability to analyze and interpret data sets & communicate data in a clear and concise manner
Expertise in the study of plant proteins, particularly lectins
Ability to work in a team environment, meet deadlines, and prioritize and balance work from multiple individuals
Good communication skills
Good time management skills
Ability to perform multiple tasks independently
Independently motivated, detail orientated, and good problem solving ability
A willingness to learn and grow
Timeline: The fellowship runs from September 1st 2023 to May 31, 2024 with renewal or upward mobility a possibility.
Required Qualifications:
A recent Doctoral degree. (within a year)
Contact Information: Dr. Michael D. Powell, PhD [email protected]
Preferred Qualifications:
Previous virology or plant protein experience is a plus
Interest in Natural products would be helpful
Demonstrated ability to work successfully as part of a collaborative research effort.
Open Until Filled: No
Posting Specific Questions for Latest PhD Jobs
Required fields are indicated with an asterisk (*).
1.What is your highest level of completed education?
High School/GED
Associate's Degree
Bachelor's Degree
Master's Degree
EdD, MD, PhD, DrPH, JD
2.Please provide your salary requirement. Do Not Enter Negotiable, a specified salary range is required. Not providing a salary requirement will result in your application being incomplete and will not be considered.
(Open Ended Question)
Applicant Documents:
Required Documents:
Cover Letter
Curriculum Vitae or Resume
Possible interview questions with answers for the role of Postdoctoral Fellow:
1. Can you describe your research experience and how it aligns with the investigation of MoMo30 and its effects on the glycosylation pattern of HIV-1 gp120?
Answer: Certainly. During my doctoral studies, I focused on virology and plant proteins, which has provided me with a solid foundation for this research project. I have experience in studying protein interactions and their impact on viral pathogens. My background in virology and plant proteins, coupled with my expertise in data analysis, makes me well-prepared to contribute to the investigation of MoMo30's effects on HIV-1 gp120 glycosylation.
2. The job description mentions collaboration with other laboratory members and research collaborators. Could you provide an example of a successful collaborative research project you've been a part of in the past?
Answer: Certainly. In my previous research, I collaborated with a team to investigate the interaction between a specific plant lectin and a viral glycoprotein. Our collaborative efforts led to a published research paper in a peer-reviewed journal, showcasing our ability to work together effectively and produce valuable scientific outcomes. I believe that effective collaboration is crucial in advancing scientific research, and I look forward to contributing to the collaborative environment at the Powell Virology Lab.
3. How do you approach the design and execution of scientific projects? Can you provide an example of a project you've led or significantly contributed to in your previous role?
Answer: When approaching scientific projects, I start by thoroughly reviewing the existing literature to understand the context and identify knowledge gaps. I then design experiments and methodologies to address these gaps systematically. One example of a project I led involved investigating the antiviral properties of a specific plant extract. I designed and executed a series of in vitro assays to assess its impact on viral replication, collaborated with colleagues for data analysis, and presented our findings at a national conference. This project not only expanded my research skills but also demonstrated my ability to lead and contribute to successful scientific investigations.
4.The job requires the ability to work in a team environment and manage multiple tasks independently. Can you provide an example of a situation where you had to balance collaborative work with individual responsibilities effectively?**
Answer: Certainly. In my previous role, I was part of a research team focused on understanding the host-virus interactions in a specific viral infection model. While collaborating on various aspects of the project, I also had individual responsibilities, including designing and conducting experiments related to viral protein characterization. To ensure efficiency, I regularly communicated with team members to coordinate our efforts, shared insights, and integrated our findings into cohesive research outcomes. This experience enhanced my ability to work both collaboratively and independently, demonstrating my adaptability and dedication to advancing scientific research.
Latest PhD Jobs
Follow BIOTECNIKA GLOBAL for more updates.