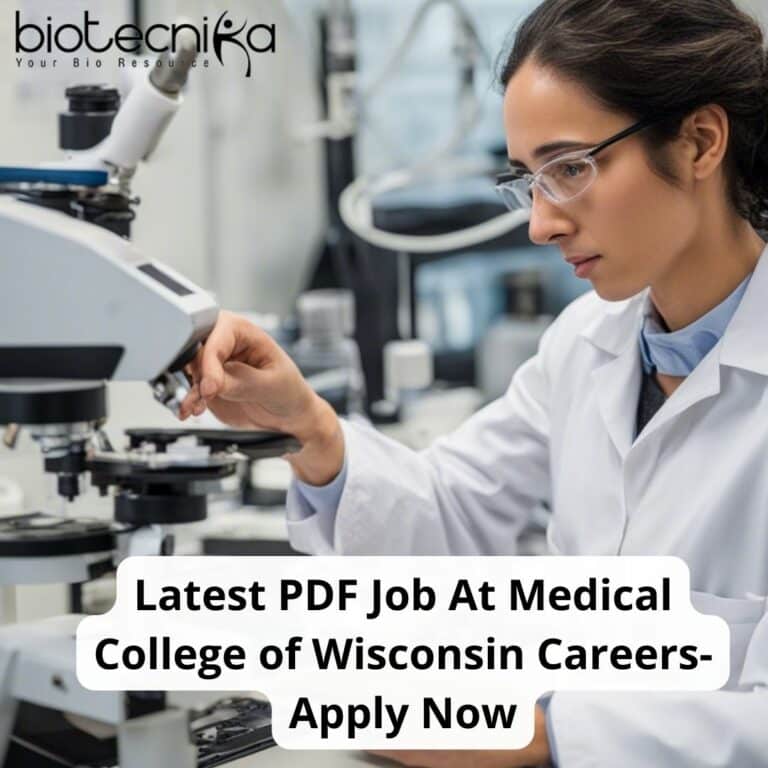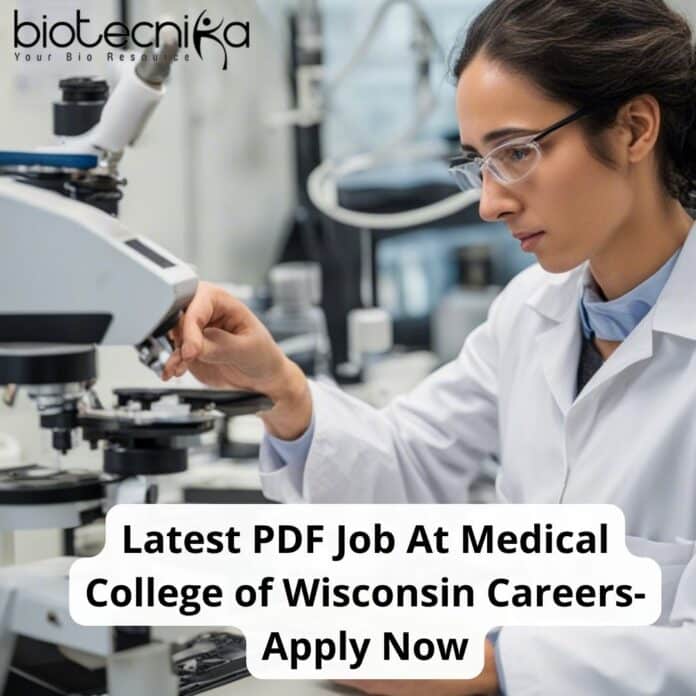 PDF Latest Job
PDF Latest Job At Medical College of Wisconsin Careers-Interested candidates can check the details given below and apply online.
Job role: Postdoctoral Fellow – Ophthalmology & Visual Sciences
Requisition ID: 29924
Work Location: Eye Institute
City, State: Milwaukee, WI
Job Category: Research
Employment Type: Full Time
Experience Level: Postdoctoral
Department: Ophthalmology and Visual Sciences
Education: Doctorate Degree
Position Description:
Purpose
The Chaurasia Lab in the Department of Ophthalmology & Visual Sciences is seeking a postdoctoral fellow to use a variety of cell-based assays and ocular imaging in in vivo rodents and porcine model systems to address mechanistic questions in the fields of diabetic retinopathy, vascular biology, retinal degeneration, translational research, and drug delivery platforms.
This postdoctoral fellow will work on an NIH-funded project to study the role of S100 proteins in the retina and its regulation in diabetic retinopathy using transgenic rodents and pig models and human retinal cells. The project will explore the potential of a new drug as therapeutic targets related to immune/inflammatory diseases involved in the pathogenesis of diabetic retinopathy. The research will be conducted with comprehensive genetic, cellular and molecular biology and immunological techniques, including flow cytometry, cell sorting, cell culture, gene expression profiling by real-time PCR, RNA seq, western blots, immunohistochemistry and therapy using in vivo delivery of AAV vectors. This position will also have opportunities to explore the roles of S100 in other ocular diseases, including inherited retinal degeneration, retinopathy of prematurity, and age-related macular degeneration.
Characteristics of a postdoctoral appointment:
It is expected that postdocs at MCW, with the assistance of their supervisor, will:
Transition to career independence through the development of professional skills that enable the postdoc to actively pursue a career of his/her own choosing.
Be supervised by at least one senior scholar who actively promotes the postdoc's professional development.
Establish an individual development plan (IDP) that incorporates equally the postdoc's career and training goals and the mentor's research goals.
Pursue basic, clinical, or translational projects so long as effort is focused primarily on research.
Publish results of the postdoc's research and scholarship during their appointment.
The postdoctoral appointment is temporary by nature, the aggregate amount of time spent as a postdoc is recommended to not exceed five years (not including family medical leave or maternity/paternity leave).
As postdocs are important members of the host institution's community, appropriate levels of compensation, health care, and other benefits commensurate with their essential status should be afforded, independent of the postdoc's source of funding.
Primary Functions 
Plan, design and execute complex research studies, procedures and protocols.
Oversee organization, synthesis and analysis of data and findings.
Prepare scientific reports, outcome findings and scientific manuscripts.
Participate in meetings with Principal Investigator and research staff at which you will evaluate/interpret the validity of data, develop methodologies, and design and evaluate lab procedures.
Maintain supplies, may require negotiation with vendors, and track purchase orders.
May oversee the work of laboratory personnel including training and development as well as daily work direction, delegation and establishing priorities.
Organizational Structure
Building: Eye Institute
Department: Ophthalmology & Visual Sciences
Division: N/A
Reports to (Title): Principal Investigator
Direct Reports (Titles): none
Collaborates with (Titles): laboratory staff and students
Position Requirements:
Knowledge – Skills – Abilities
Highly self-motivated, passion for translational research and working with small and large animals, excellent communication/writing skills
Specifications
Minimum Required Education: Ph.D.
Preferred Education: Ph.D. in Biological Sciences, Immunology, Molecular biology, Molecular Genetics, or Cell Biology
Preferred Experience: Previous interdisciplinary research experience in ocular diseases with techniques mentioned above. Strong publication record preferred.
Certification: Animal Core Certification required and can be obtained at MCW
MCW as an Equal Opportunity Employer and Commitment to Non-Discrimination
The Medical College of Wisconsin (MCW) is an Equal Opportunity Employer. We are committed to fostering a diverse community of outstanding faculty, staff, and students, as well as ensuring equal educational opportunity, employment, and access to services, programs, and activities, without regard to an individual's race, color, national origin, religion, age, disability, sex, gender identity/expression, sexual orientation, marital status, pregnancy, predisposing genetic characteristic, or military status. Employees, students, applicants or other members of the MCW community (including but not limited to vendors, visitors, and guests) may not be subjected to harassment that is prohibited by law or treated adversely or retaliated against based upon a protected characteristic.
Here are four interview questions with answers for the PDF Latest Job- Postdoctoral Fellow position in Ophthalmology & Visual Sciences at the Medical College of Wisconsin:
1:Can you describe your experience with cell-based assays and ocular imaging? How have these skills prepared you for the research challenges in diabetic retinopathy and related fields?
Answer: I have a strong background in cell-based assays and ocular imaging gained through my doctoral and postgraduate research. During my Ph.D., I extensively utilized cell-based assays to investigate cellular responses to various stimuli. I also have experience with ocular imaging techniques, including [mention specific techniques]. These skills have equipped me to contribute effectively to research in diabetic retinopathy and related areas, where understanding cellular mechanisms and visualizing ocular changes is crucial.
2:The project involves studying S100 proteins in the context of diabetic retinopathy. Can you explain your familiarity with S100 proteins and their significance in this research?
Answer: Certainly. S100 proteins are a family of calcium-binding proteins with diverse roles in cellular processes, including inflammation and immune responses. My prior research exposed me to the significance of S100 proteins in various disease contexts, including their involvement in immune/inflammatory pathways relevant to diabetic retinopathy. I am well-versed in the literature regarding S100 proteins and their potential as therapeutic targets. This knowledge will be instrumental in advancing our understanding of their role in retinal diseases.
3:The position involves conducting research with both in vivo models and human retinal cells. Can you elaborate on your experience in handling animal models and human cell culture, as well as any challenges you've encountered?
Answer: I have hands-on experience working with in vivo animal models, particularly rodents and porcine models. This includes tasks such as model selection, experimental design, and conducting experiments while adhering to ethical guidelines. Additionally, I have proficiency in human retinal cell culture techniques, which have been essential for conducting mechanistic studies. Challenges in working with animal models often involve maintaining consistency and minimizing stress on the animals. In cell culture, ensuring cell viability and purity can be challenging but is crucial for reliable results.
4:Collaboration is essential in a research environment. Can you provide an example of a successful interdisciplinary collaboration from your previous work, and how did it contribute to the project's success?
Answer: In my previous research, I collaborated with researchers from different disciplines, including [mention disciplines], on a project focused on [briefly describe the project]. Our interdisciplinary approach allowed us to tackle complex questions from multiple angles. For instance, while my expertise was in molecular biology, my collaborators brought expertise in [mention other disciplines], which enriched our research. This collaboration resulted in a publication in a reputable journal, showcasing how diverse skill sets can enhance the quality and impact of research outcomes. I believe in fostering such collaborations to drive innovation and scientific progress.
PDF Latest Job. PDF Latest Job. Job Opening At Medical College of Wisconsin Careers.
Follow BIOTECNIKA GLOBAL for more job updates.