All About The New Video Grant Proposals
Scientists at universities require research grants for their different projects. They generally compete for funding by submitting grants. Mostly, these are extensive documents that elucidate a research plan. Few scientists believe that the system has room for amendment.
By the year 2020, since scientists got adjusted to COVID-19 curfews & lockdowns, video communication became the new normal for virtual conferences and meetings. Due to this, it is an ideal time to contemplate the advantages of video-based grants and applications.
Grant proposal writers spend, nearly, 34 days creating major scientific proposals. A recent study discovered that reviewers invest an average of 10 days annually for reviewing applications. In spite of this tremendous time expenditure, they find it difficult to assess grant applications reliably while adhering to the present-day processes. However, the majority of funding processes comprises just 3-4 reviewers per grant application, which is likely to hamper their expertise to assess grant applications reliably. The capacity of the community to involve more reviewers per grant applicant is relying on boosting the efficiency of the proposal analysis process. And employing video as a time-saving means to aid reviewers to go through the proposal will hopefully invite more scientists to provide their proposal reviewing ability.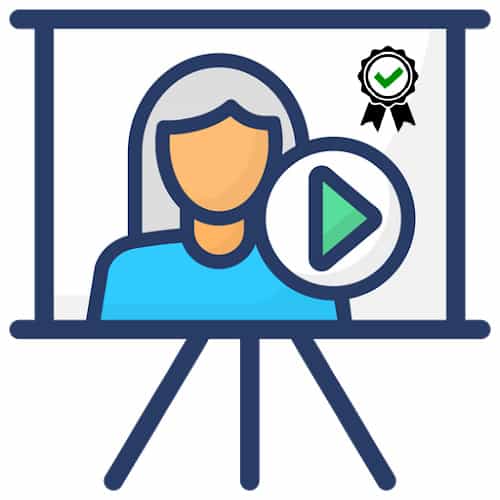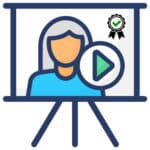 What Do You Mean By A Video Proposal?
A video proposal is a great alternative to text-based proposals wherein you can present your project plans, ideas, problems, and organizational capacities. You can provide your project idea a personal touch by communicating in both verbal and visual format-something that paper forms don't permit you to do as effectively.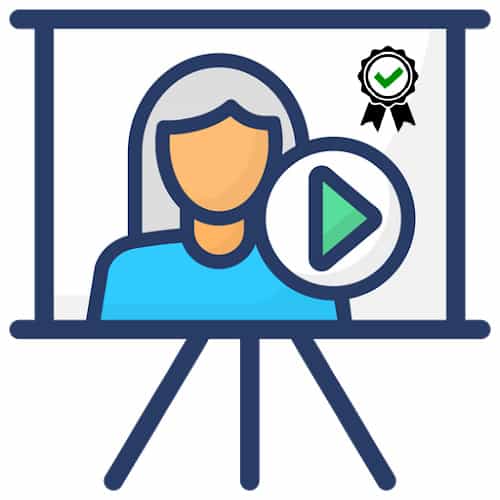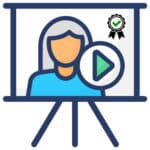 Requirements Of A Video Proposal
A video grant proposal must have nearly the same information as text-based proposals. A typical content format & structure is given below: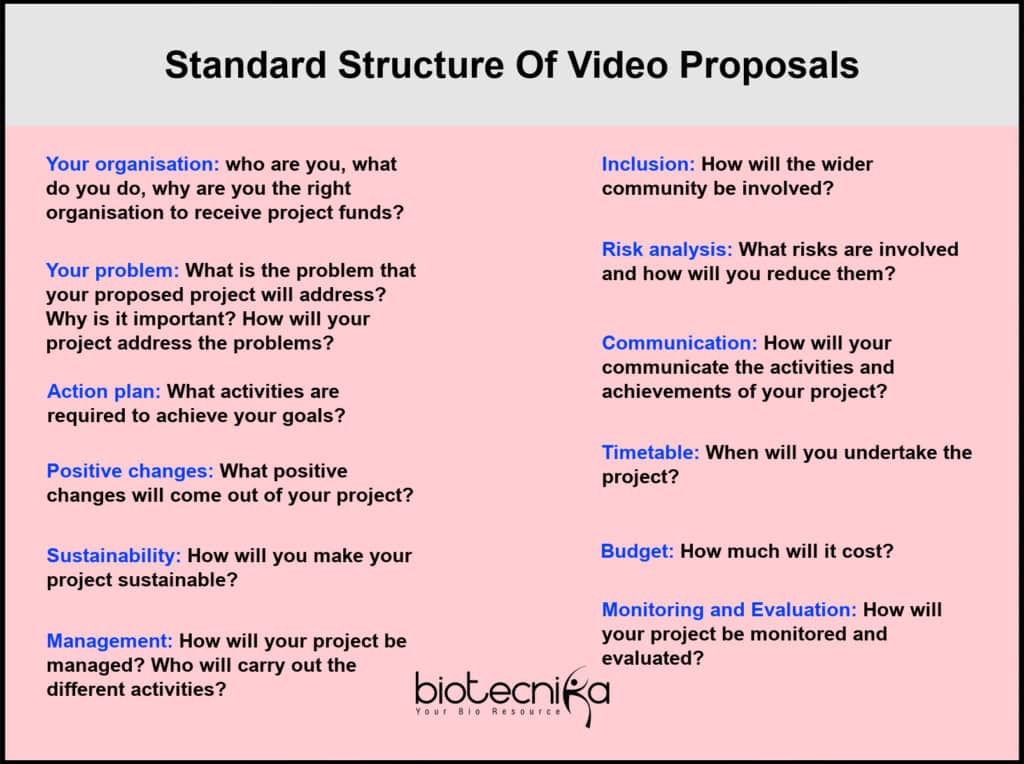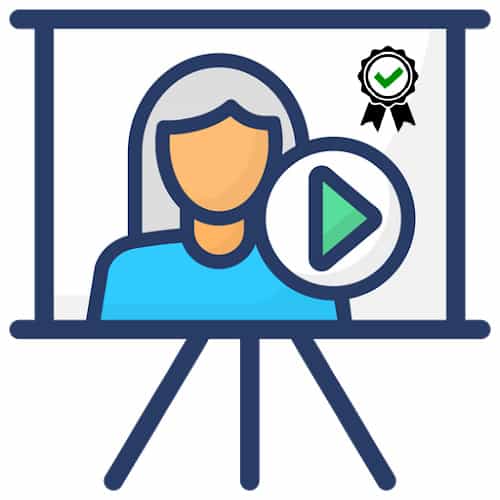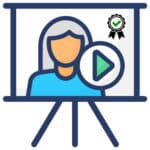 A Multimedia Answer
A video presentation would comprise more data compared to a normal 9-page grant proposal. The former would aid proposal reviewers to discern the proposed research idea better than the text-based proposal. This will make it easier to determine which grant proposals have good quality. Additionally, it can improve the competence of scientists to elucidate their study.
All technical parameters of a grant proposal must be communicated using a 20-minute clip; the applicant biographies and the budget must remain text-based. Similar to text-based grant proposals, candidates would adhere to a standard set of formatting norms, however, they would have the freedom to incorporate audiovisual tools, film clips, and animations. Similar videos could be created easily by recording Powerpoint presentations, employing the tools present on nearly all systems.
Changing the way of composing dense text along with making a video could notably lower the time for preparing proposals. Additionally, it could efficiently enhance the quality of the proposal. In the academic situation, video presentations already have verified potential to enable studying results, particularly those dealing with hard-to-see phenomena or abstract. Space limitations in written grant proposals mostly compel people to resize the image, or to remove the entire thing. However, by utilizing video, candidates can present audio commentary along with visual parts, offering enough space to in-depth dynamic results or processes or replicate, control, or display data that are difficult to communicate via text.
How To Compose A Good Ph.D. Proposal?-Read At Biotecnika
In the case of reviewers, video applications guarantee to change tiring text-based elucidation with navigated tours of scientists' concepts. Candidates can take reviewers through intricate information, emphasizing major control and points, highlighting findings backing the hypothesis, and preemptively elucidating how significant challenges can be overcome. Reviewers can stop in between or rewind the parts of the video for further clarity, and tools lately enable them to annotate footages with hyperlinks for a specific time. This potential could enable reviewers to assess more grant applications compared to the conventional method, hence contributing to the enhanced reliable evaluations. Video grants may even lower reviewer grade variability, and since the clips can be seen at the time of the review-panel discussions which can function to freshen up the memories of panel members about the key points of the application prior to the finalization of funding decisions.
Current funding decisions affect future breakthroughs, and video could alter funding results. One type of proposals that could specifically gain from videos are those dealing with intricate multiple disciplines or novel methodologies. Scientists commonly argue that funding organizations tend to prefer incremental science or low risk. Interdisciplinary groups can struggle to describe multiple or complex new perspectives in text and individual reviewers could struggle to assess all parameters of different proposals in an effective manner. Even though grant standards mostly hinder candidates from giving links to multimedia that may provide an unjust advantage, video grant proposals would summon all candidates to share in the most efficient and effective way possible.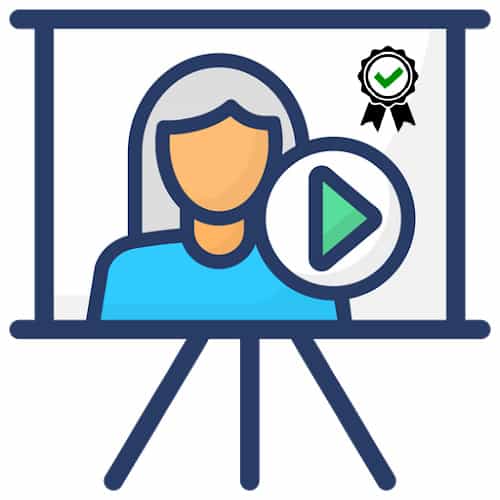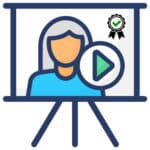 Obstacles
Few might dread that a video version will favor those with reach to top-notch preparation support or computer animation, or augment bias by disclosing the race, gender, and other differentiating traits of applicants. Nonetheless, the aim should be to maximize efficiency and communication quality, while hoping the peers are not easily blinded nor bamboozled by bias. A good-quality presentation is not dependent on advanced animation, and even low-key videos are probable to be more successful communication tools compared to static images & texts. Research centers will adjust to edify skills that maximize the advantage of video and to back video production. Like written grant applications, this is probable to incorporate script editing, and maybe narration assistance for those who can't speak English.
Contradictorily, it is likely that the impact of bias will be lowered due to ameliorated video communication. When reviewer apprehension is compromised, which is a prevalent complaint of candidates, reviewers may retreat to tangible approaches like institutional affiliation and track record, or surrender to bias. Like diluting the impact of individual reviewer bias against the science in a particular grant proposal, enhancing the count of reviewers per grant application will dilute the impact of reviewers who may hold opinions that are not associated with science or biases against particular candidates.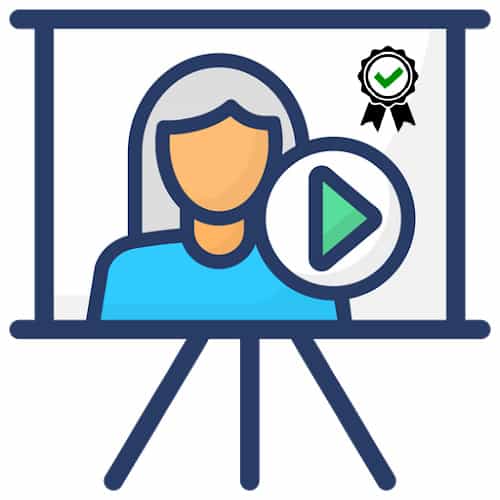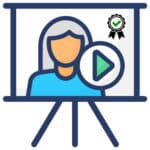 Subsequent Steps
Multimedia approaches have the power to address several shortcomings of the present-day grant application process. Trials could be devised to compute the time needed to make and review video-based applications, collate the evaluation consistency between text-based and video-based applications, collate reviewer understanding of the content laid out in the text it videos, compare scores of videos with narrators of varying genders and ascertain if the video version detects allows more effective communication or exceptional applications of multidisciplinary grant proposals.
Video has become the new normal in the working lives of researchers. Now it is time to find what it can do for research funding.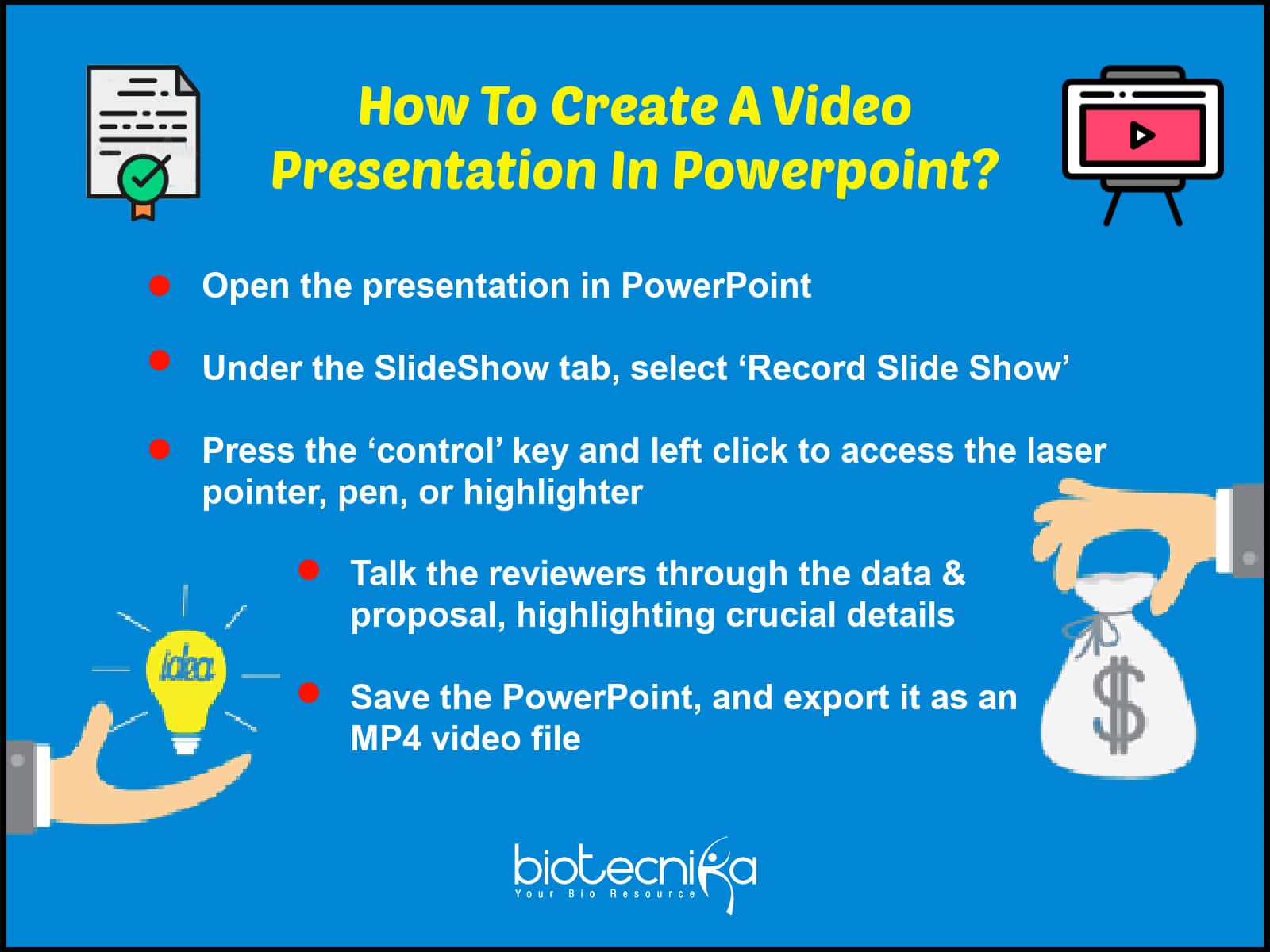 NOTE: Slides can be individually modified and recorded independently. A script or notes can be added in the window near to the Each slide can be edited and recorded independently of other slides. Notes or a script can be placed in the window adjacent to the recorded screen.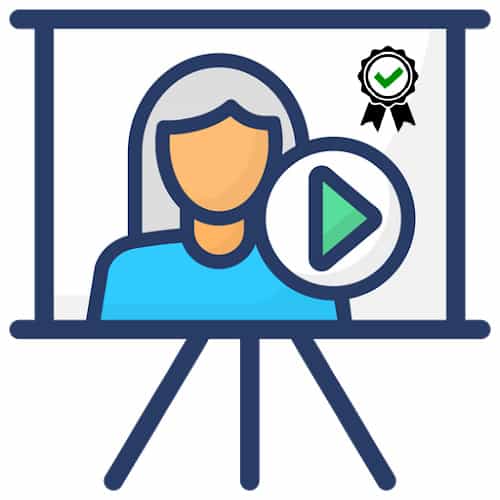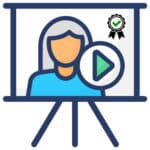 Concluding Remarks
The grant review process is quite laborious and video presentation may make this process a lot easier for researchers and reviewers. It could be the initial move towards simplifying an extremely significant element of the research cycle. Nonetheless, scientists would have to determine means to stop videos from being employed to discriminate against their fellow colleagues prior to their wide usage.
Check Out Interesting Career Advice Articles On Biotecnika
---
New Format For Grant Proposals, Video-Based Grant Proposals, Audio-Visual Grant Proposals, New Format For Grant Proposals, Video-Based Grant Proposals, Audio-Visual Grant Proposals, New Format For Grant Proposals, Audio-Visual Grant Proposals, Video-Based Grant Proposals, Audio-Visual Grant Proposals