PhD Positions at Heidelberg University – 13 Openings Available
GRK 2727/1 – InCheck "Innate Immune Checkpoints in Cancer and Tissue Damage"
The DFG-funded Research Training Group GRK 2727 brings together 13 projects on innate immune checkpoints focusing on Natural Killer (NK) cells and Monocytes / Macrophages led by 17 Principle Investigators from the Medical Faculties Mannheim and Heidelberg and the German Cancer Research Center, DKFZ, Heidelberg. In these projects, PhD students will closely collaborate with MD students. The goal of GRK 2727 is to uncover checkpoints in innate immune cells at the transcriptional, post-transcriptional, metabolic and cell-surface receptor levels, and to validate their functions in cancer and conditions of tissue damage. We will focus on NK cells and monocytes / macrophages that function at the forefront of immune responses. We expect that the obtained mechanistic knowledge will be instrumental for the design of innovative therapies of cancer and in conditions of tissue damage, where these checkpoints could be therapeutically blocked or fostered, respectively. Consortium members will benefit from complementary expertise in innate immunity, a common focus on complex immune processes, and from sharing cutting-edge experimental methods. At the educational level, GRK 2727 students will obtain extensive training in (innate) immunity in an InCheck-tailored program, including special lectures, science afternoons, dedicated workshops and hands-on training courses. To foster the interdisciplinary interaction between basic and translational science, the GRK 2727 will support tandem collaborations of PhD and MD students, working in the same lab.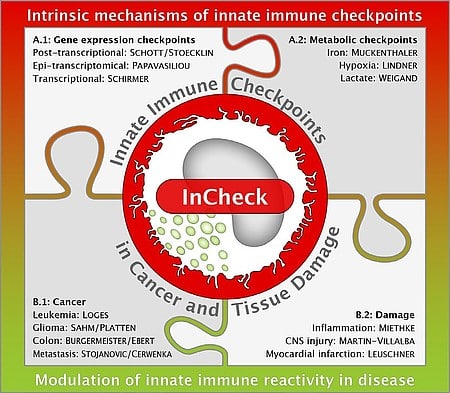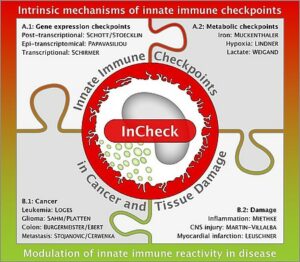 Area A: Cell intrinsic mechanisms of innate immune checkpoints
A.1: Gene expression checkpoints
A.1.1 – Transcriptional: Schirmer A.1.2 – Epi-transcriptomical: Papavasiliou A.1.3 – Post-transcriptomical: Schott / Stoecklin A.2: Metabolic checkpoints A.2.1 – Iron: Muckenthaler A.2.2 – Lactates: Weigand A.2.3 – Hypoxia: Lindner
Area B: Modulation of innate immune reactivity in disease
B.1: Cancer
B.1.1 – Glioma: Sahm / Platten
B.1.2 – Metastasis: Stojanovic / Cerwenka
B.1.3 – Colon: Burgermeister / Ebert
B.1.4 – Leukemia: Loges
B.2: Damage
B.2.1 – Myocardial Infarction : Leuschner
B.2.2 – Inflammation: Miethke
B.2.3 – CNS Injury: Martin-Villalba
Research Areas & Topics
Innate Immunity, Natural Killer Cell and Macrophage Biology
Gene Expression Checkpoints
Post-transcriptional / Epi-transcriptional / Transcriptional
Metabolic Checkpoints
Iron / Hypoxia / Lactate
Cancer
Leukemia / Colon / Metastasis
Damage
Inflammation / CNS Injury / Myocardial Infarction
Highlights
Emerging scientific topic
Excellent scientific surroundings and infrastructure
Structured graduate education in Innate Immunity
International collaborations with experts from Karolinska/Stockholm and Vienna University.
Link to online application system:
http://www.hbigs.uni-heidelberg.de/main_application.html
Application deadline: 30th August 2021
PhD Positions at Heidelberg University – 13 Openings Available. 13 PhD Positions at Heidelberg University.