Common Cold Detecting Protein Study By Singapore Scientists
A scientific research team from NTU, Singapore (Nanyang Technological University), NUS (National University of Singapore), and A*STAR (Agency for Scientific Research, Technology) determined the function of a protein in diagnosing the common cold virus and spurring an immune reaction to combat infection.
Their research work was published on 22 October 2020 in Science journal. The study demonstrated that the protein NLRP1, seen in the respiratory tracts and on the skin, is a probe that senses the Human Rhinovirus (HRV). As soon as NLRP1 enters the airway, it stimulates an immunological response resulting in inflammation in the lungs as well as activates symptoms of acute rhinitis.
HRV is a significant root cause of upper respiratory tract infections as well as respiratory diseases in kids and grownups, which in extreme situations, results in pneumonia and bronchiolitis.
The study group claimed that finding NLRP1's function can result in new therapies for the signs and symptoms of acute rhinitis, which influences countless people yearly. They plan to operate with medical professionals to create medicines that 'shut off' or obstruct NLRP1, to decrease the intensity of Indications for HRV-related diseases. Nonetheless, the group observed that obstructing the protein present in human lung cells didn't boost the viral titer, which describes the quantity of virus in an affected individual's blood.
Franklin Zhong, assistant professor, NTU, Lee Kong Chian School of Medicine and A*STAR, SRIS stated that since they found that  NLRP1 is the "on button" for inflammation when it senses HRV, the subsequent stage is to explore the mechanism of its obstruction and reduction of the immune response it causes.
The authors of the research article are Dr. Kim S Robinson, research fellow, SRIS, A*STAR,  Prof.  Bruno Reversade,  A*STAR, Genome Institute of Singapore and Institute of Molecular and Cellular Biology, and Asst Prof Zhong, in hierarchical order.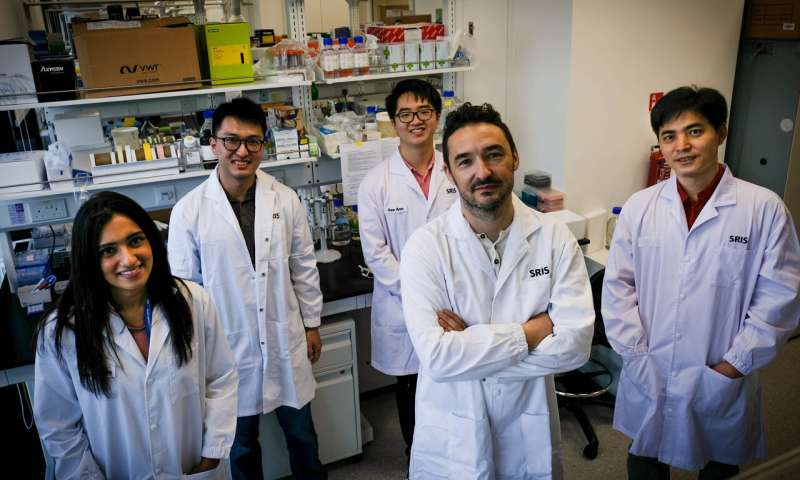 Asst Prof Zhong claimed that their breakthrough in immune system dynamics might aid investigators to create more proficient therapeutic strategies for various inflammatory Illnesses of the human respiratory tract.
He reported that this project constitutes substantial progress in our understanding of the mechanism of the immune system's particular protein that detects and combats against viruses. This expertise will be beneficial in the development of therapeutic strategies for viral infections like COVID-19 and influenza.
NLRP1 has been familiar to researchers for many years but its precise objective was not found. The common cold detecting protein belongs to a group termed  'Nod-like Receptor'  proteins that are sensing units of the immune system that cause the human body's reaction against the infesting viruses.
When the group commenced their research in 2017, they speculated that NLRP1 works as a detector for viruses, since it is profuse on lungs and in human skin-areas that are frequently subjected to viruses.
The team evaluated NLRP1 against different pathogenic viruses to check whether any would activate the protein. They found that an enzyme generated by HRV termed 3Cpro stimulated NLRP1 in human respiratory tract cells after months of tests.
They observed that the 3Cpro biocatalyst interact with NLRP1 at a certain point, setting off a kind of inflammatory 'cell apoptosis', which is a crucial procedure in swiftly clearing viruses like HRV in a disease
Determining NLRP1's function noted an essential step in comprehending how our bodies respond to HRV invasions, Reversade, genetics professor, Koç University, Istanbul, Turkey mentioned.
There is instant worth from this discovery, as we can comprehend better why an HRV infection can cause difficulties in people with weak immune systems, like youngsters, the old people, and asthma patients, Prof Reversade elucidated.
He included that the benefit of this study might extend to various other illnesses caused by a similar group of viruses.
He told that focusing on NLRP1 in patients is probably going to offer pharmaceutical advantages in numerous human ailments. Their research outcomes on the immunological reaction to this group of viruses likewise hold significance to Coxsackieviruses which are accountable for HFMD (hand, foot, and mouth disease) in young kids.
Author: Geema George