Conservation Scientist Career Opportunities – Become A Conservationist
The year 2020 has shown us the importance of nature and what would happen if mankind overrules nature. Today we are dealing with the global crisis caused by the COVID-19 pandemic, but it might not take long for us to face another crisis which could be more disastrous than the one we are facing right now! If mankind continues to exploit nature at such an unprecedented rate, we would be facing the catastrophic consequences of Climate change in just a few decades.
We are already experiencing the intensity of climate change witnessing the rising global warming and extreme weather events all around the world. Humans are not only destroying nature threatening the survival of a million species but also threatening the survival of our own too. Thus, this is where the role of a conservation scientist comes into the picture. If you are someone who wishes to play an important role in how humans interact with the nature around them, then you might want to consider a career as a conservation scientist.
A Conservation Scientist or a Conservationist works in the protection of biological life and manages the overall quality of natural resources and the environment.
The term Conservationist is a generic term and it can be used in several disciplines, generally related to environmental-related areas and environmental sciences. Their main job is to protect nature and preserve the health of ecology or the planet for future generations. Conservation scientists are knowledgeable about how to intersect conservation with ecology and environmental factors. Generally, conservationists have a particular area of focus and depending on what they try to accomplish, their job description, salary, and duties vary. They work on how to best conserve and protect areas, and work with advising individuals or organizations on in the public or private sector.
How to Become A Conservationist? 
There are two choices for professionals entering this field of science. Within each respective field, one can either work "on the ground" in interventionist roles -as conservation workers, or can work as a conservation scientist. The role of conservationist scientists involves more lab work than working directly with biological life and ecologies, likely to include research and development of conservation materials and methods in all fields, and features theory rather than practice.
Depending on which discipline one is an expert conservationist, there is a wide range of choices of employment opportunities. The field of conservation is amongst some of the largest employment opportunities under ecology and landscape conservation, such as the state and federal bodies of the Forest Service, National Parks Service, National Resource, Fish & Wildlife Service, among others.
Education Requirements:
Typically, a conservation scientist is required to have a bachelor's degree in the field that they are interested in or any biological science and conservation-related degree.
You can choose the disciple you are the most interested in during undergraduate studies and can specialize in the field of forestry, wildlife science, urban forestry, environmental science, rangeland management, agricultural science, earth, and marine science, natural resources, and ecosystem management among others. While a bachelor's degree is sufficient for entry-level conservation scientist roles, you can choose to advance to management or high-level research roles by getting a master's degree or Ph.D. done. Conservation scientists can additionally obtain a voluntary professional certification and other conservation certification courses.
Top 10 Most Popular Natural Resources and Conservation Schools
Conservation Scientist Career Opportunities & Job Roles:
The responsibilities of conservation scientists include managing, improving, and protecting the country's natural resources. They work with governments and landowners and come up with different ways to use and improve the land while safeguarding the environment. Conservation scientists may advise farm managers, farmers, and ranchers and even advice landowners and governments regarding recreational land usage and to help improve land for agriculture or control erosion.
Conservation scientists can work in a number of areas, out of which Range Managers and Soil and Water Conservationist are the two common careers. Range managers work to manage, improve, study, and protect rangelands for maximizing their use while also taking care not to damage the environment. Soil and water conservationists provide assistance to governments, ranchers, foresters, and farmers, about natural resources.
Working conditions for conservation scientists vary depending on their day-to-day activities. They may spend most of their time outdoors either completing hands-on work or observing and analyzing or may work normal hours in an office or laboratory. This fieldwork can include physically demanding tasks and work for a long period of time. Sometimes, they are also required to work in isolated areas and in all types of weather. In times of natural disasters, conservationists are required to provide emergency help in order to prevent forest fires, tropical storms, mudslides, or erosion after floods.
Many conservation scientists also advance their careers and take up managerial duties. Often, after they earn an advanced degree, they get involved in conducting research or working on policy issues. Conservation scientists in management usually spend more time in the office and leave fieldwork behind as they are required to supervise others in their team and have to work with the team for developing management plans.
Conservation Scientists Earnings and Salary:
The median annual wages for conservation scientists were $60,160 with the lowest 10 percent earning under $35,570, the highest 10 percent earning above $87,890, and the middle 50 percent earned between $46,140 and $73,340, according to the Bureau of Labor Statistics. Federal soil conservation workers earned $69,483, while federal range managers earned an average annual salary of $64,564. The best benefits of this job would be available for the conservation scientists working for governments or large private firms.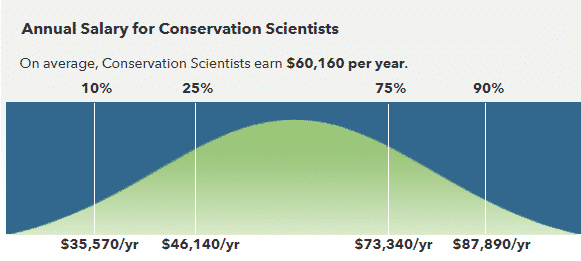 Conservation Scientist Career Opportunities Scope
By the year 2026, the conservation scientist job market is expected to grow by 6.3%. So, with a growth rate on par with the average across all occupations, over a decade, the job opportunities for conservation scientists could increase by seven percent. Conservation scientists would have strong job prospects if they have additional skills and experience in using software tools such as geographic information systems and remote sensing.
There will always be demand for conservation workers given that the job of protecting and preserving nature would never end. There would be growth in demand for ecological conservationists, animal, and botanical conservationists.
For candidates who have a burning desire to be a part of conserving the beautiful planet that we live in, conservation scientist is an excellent "green" career option. With a passion for protecting the environment, the role of conservation scientists is crucial to mankind. As there are plenty of conservation scientist career opportunities, all you need to do is decide if this line of career is for you and start your journey in this exciting and important field.