PhD opportunity in Microbial Molecular Genetics Germany.
Leibniz Institute for Natural Product Research & Infection Biology – Hans Knöll Institute (HKI).
A leading research institution in the field of natural product research and infection biology of human pathogenic fungi, member of the Leibniz Association.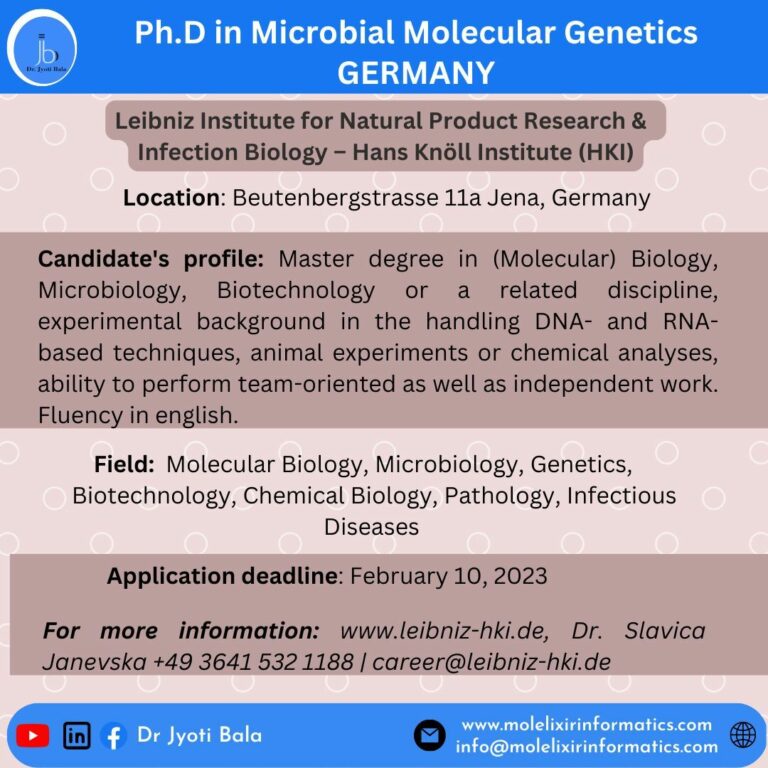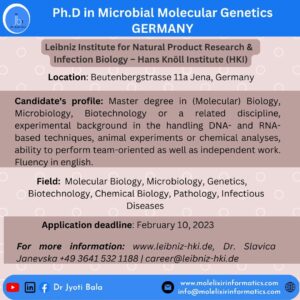 Candidate's profile: Master degree in (Molecular) Biology, Microbiology, Biotechnology or a related discipline, experimental background in the handling DNA- and RNA-based techniques, animal experiments or chemical analyses, ability to perform team-oriented as well as independent work. Fluency in english.
Application deadline: February 10, 2023
For more information: www.leibniz-hki.de, Dr. Slavica Janevska +49 3641 532 1188 | [email protected]
The HKI is an internationally leading centre for the research of new natural products of microbial origin and for the infection biology of pathogenic fungi.Natural products determine the biological communication of microorganisms with each other as well as with plant and animal cells. The HKI is a world-leading academic research centre in the field of natural product research and infection biology of human-pathogenic fungi. Research outputs, collaborations and relationships for Leibniz Institute for Natural Product Research and Infection Biology
They are interested in the production and ecological function of microbial natural products and in the interactions of pathogenic microorganisms, especially fungi, with the host. To this end, we investigate the defence of the immune system against pathogens, the strategies of microorganisms to overcome it and the molecules involved
PhD opportunity