Biomechanics Career Path
Biology is indeed a vast field with many branches emerging every decade. Even though the idea of study in a particular branch exists, extensive research and development prompt, it to emerge as a subfield of its own. Lately, technology has been bringing about subfields of a wide variety. For example, bioinformatics has gained unprecedented popularity in the past few years. Biologists acknowledge the remarkable level of innovation that artificial intelligence and other technology bring to the field. Similarly, with increasing digitalization and demand for high-tech living, engineering and biological sciences have integrated into several different ways.
One of the branches that have manifested from such a blend is Biomechanics.
What is Biomechanics?
Biomechanics is the study of the mechanical properties of living systems. Biomechanists are scientists who apply engineering principles to understand how organisms work and interact with their environment.
This branch actually has an early history since Aristotle describes it in his book De Motu Animalium. While in the US, they called it kinesiology; Europeans called it Biomechanics.
The biomechanical sciences can be applied to many different topics, including sports medicine, orthopedic surgery, rehabilitation therapy, kinesiology (the science of human movement), human physiology (how our body works), animal locomotion (how animals move), and more!
Subfields of Biomechanics
Kinesiology – Kinetics refers to movement, and kinesiology is the study of movement. Human movement can be branched out into anatomical aspects and mechanical aspects. Dynamics and statics are what makeup kinesiology.
Dynamics – Dynamics is a term used for a state of motion. Bodies, Masses, and forces in a state of motion are studied in this subfield concerning the human body. Kinetics, kinematics, and temporal analysis are some of the branches.
Statics – Statics refers to the state of rest. In biomechanics, statics is a subfield where a scientist studies bodies along with the forces and masses that act on them while in a state of equilibrium or rest.
Kinetics – Kinetics is the study of forces that act on bodies by changing or producing motion in them.
Kinematics – There is no reference to forces or masses in this study of motion.
Temporal analysis – Temporal Analysis solely depends on time.
Applied Biomechanics – Another branch of biomechanics is Applied Biomechanics, where fundamental knowledge of the field is applied to areas such as sports and artificial intelligence. For example, British triple jumper Jonathan Edwards saw tremendous improvement in his performance after his movements were analyzed using biomechanics. He went on to break the triple jump world record.
What does a Biomechanist do?
A biomechanist observes and studies the forces acting on a human body and their effects by applying the principles of engineering and mechanics. The following are some of the tasks that biomechanists are expected to perform:
Designing of artificial interactive machines
Research and Development in sports companies
Checking of strength, durability, and flexibility
Conducting tests on athletes and sportspersons
Designing in sports companies
Biomechanists are mostly thought of as researchers since most professionals in the field go on to become scientists who work on extremely applicable technology such as prosthetic limbs, futuristic contact lenses, etc. However, there is tremendous scope for biomechanists in the sports industry.
Educational requirements 
To pursue a biomechanics career path, you must know what to study. A biomechanist is expected to know biology, physics, mathematics, physiology, human anatomy, mechanical engineering, etc. Here are the best options you can consider to specialize in the field of biomechanics.
Bachelor's degree – Since biomechanics overlaps with many other fields and disciplines, there is higher flexibility that one can exercise while choosing a major. Biomechanists generally have a background in kinesiology, mechanical engineering, or biomedical engineering. Therefore, a Bachelor's degree with one of these subjects as a major with biomechanics being the field of concentration is most advisable. Maths and Physics are essential subjects in Bachelors.
Master's degree – Many universities offer master's programs in the fields of biomechanical and biomedical engineering. One can also specialize in biomedical instrumentation. Upon earning a master's degree in biomechanics, one can work as a research assistant or lab technician.
Doctoral degree – To become a specialized professional in biomechanics, one is highly advised to pursue a Ph.D. in biomechanics. This catapults you into the research field. With a doctoral specialization, you can also work in academia as a professor.
Best Universities to Study Biomechanics in
To have a successful biomechanics career path, you need to know your best options in terms of education. Following are the world's best universities offering biomechanics as a major:
Organizations for Biomechanics
Organizations and associations related to particular fields offer the members and aspiring professionals the chance to network and connect with experienced professionals and companies that thrive and succeed. Some of them related to biomechanics are:
Areas of Employment
A biomechanist has various options for the areas or sectors they can be hired in along their biomechanics career path. Following are some of those employment areas: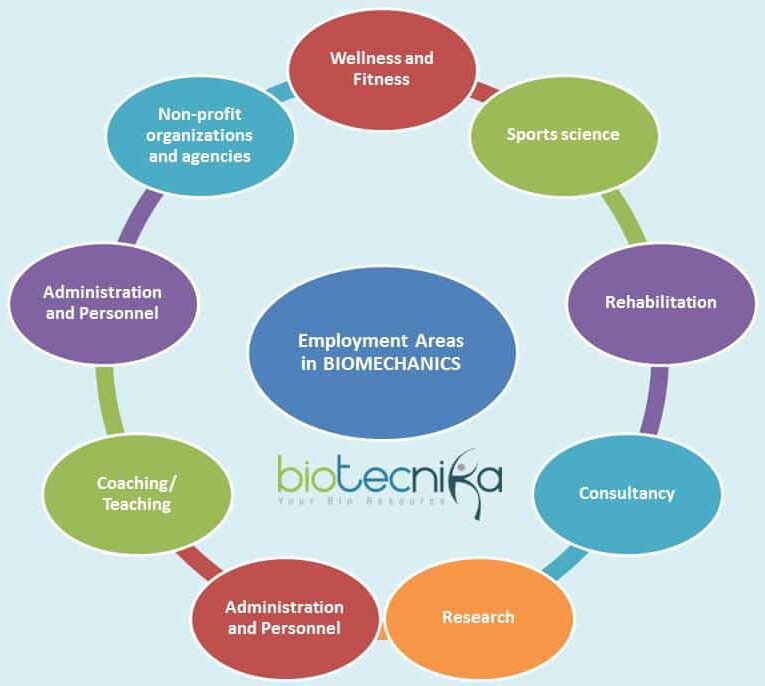 Skills Required in a Biomechanics Career
As an aspiring professional on a biomechanics career path, there are several technical skills that you are expected to possess. Some of them are as follows:
Decision making
Problem-solving skills
Information and data analysis skills
Computational interaction
Quantifiable characteristics' evaluation concerning information, events, or products
Recording and documentation of information
Development of strategies and objectives
Evaluation of data and products to make sure they comply with standards
Communication and Coordination
Creative and innovative thinking skills
Organizational skills
Controlling of machines and processes
Companies That Hire Biomechanists
Some of the companies where you can aim to pursue your biomechanics career path are as follows:
Salary Prospects in Biomechanics
The salary prospects in a biomechanics career path are highly rewarding with the right specialization. A biomechanist earns an average of $85,620 per year which means that he/she makes about $41.16 on an hourly basis. The salary prospects for a biomechanist ranges from $30,000 to $99,000 per year based on the field of employment, qualifications, skills, and experience. Biomechanical researchers may even earn higher salaries.
Scope of Biomechanics
As the world is slowly becoming more aware of the role that people's surroundings and mannerisms play in their health, the demand for biomechanical specialists is increasing. From 2016 to 2026, there is an expected project percentage increase of 7% in jobs for biomechanists. Biomechanists work to move as effectively and safely as possible for ordinary people and sportspersons. This is deemed highly necessary in a professional outlook. Biomechanics has such a great scope for research, and application only proves to us how little we know about living organisms and their movements and how much more there is to learn about our beautiful planet.
Want to learn about more career opportunities in Life Sciences? Check out our career advice articles: