'Lab On A Chip': Faster COVID-19 Antibody Test By Southern Methodist University 
Two scientists – Ali Beskok and J C Chiao, from Southern Methodist University, have developed a novel method to detect the presence of COVID-19 antibodies. This method can detect the antibodies faster and with more precision than present antibody screening methods.
Antibody tests are crucial in determining how many COVID-19 cases have gone unseen and whether individuals who have had the infection might now be immune – dimensions that can help the healthcare community manage the COVID-19 pandemic and preparing for the future. However, typical immunosensor antibody tests tend to be slow to reveal outcomes and regularly fallacious.
The lab-on-a-chip test detects coronavirus immune responses in just 2-3 minutes, with a drop of blood. The materials utilized to produce the lab-on-a-chip test are affordable, resulting in inexpensive large scale production.
Ali Beskok is The Brown Foundation, Inc. Prof of Engineering at SMU's Lyle School of Engineering, and J C Chiao is The Mary and Richard Templeton Centennial Chair and prof in Lyle's Dept of Electrical and Computing Engineering. Together, they have over 50 years of combined competence in microfluidics technology and biotechnology.
Eva Csaky, Bob Hendler, and Quan-Zhen Li were also part of this project.
The study group is presently looking for research funding to speed up the lab-on-a-chip test advancement for potential medical usages.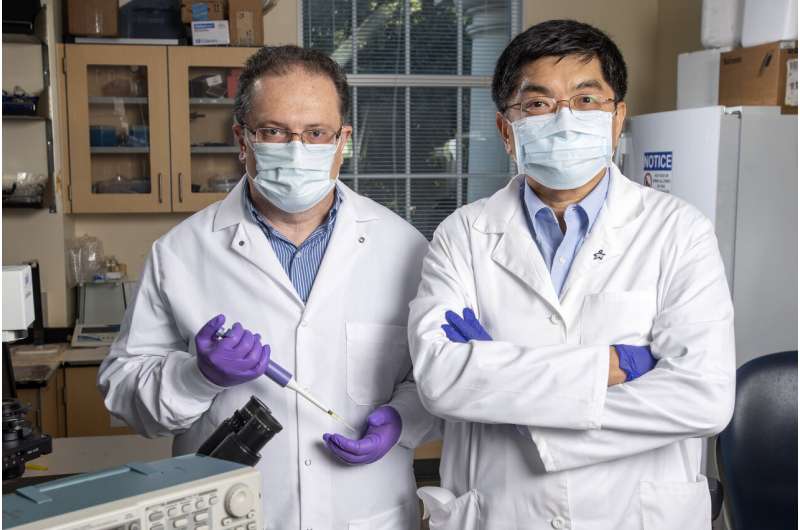 How does it work?
The lab-on-a-chip test will inspect indications that a person's immune system has, at some point, responded to COVID-19 being present in their body. Particularly, it will certainly detect human IgG, IgM, and IgA antibodies produced when someone is or has been infected with the infection.
The test is carried out using a drop of blood in a microfluidic chip employed to examine small fluid quantities. A filter installed in the microchip extricates plasma from the blood sample. The chip is then installed into an electronic device that uses electrical estimations to identify whether particular antibodies are present in the plasma.
Chiao said that their gadget includes highly-sensitive electrodes that can particularly capture those targeted antibodies. When captured, a signal will be produced to the affixed electronic devices and send info to the customer's phone.
Beskok stated that the chip is 2 cms in diameter, and the gadget is simply sufficient that those without clinical training can carry out the test.
How do these electrodes – conductors whereby electric currents can travel – understand they have detected a targeted antibody?
The Key – Antibody-Antigen Binding
An antigen is a protein that stimulates the body's body immune system to attack pathogens that enter our body. Antibodies are the proteins that eliminate those pathogens by attaching to antigens.
Beskok stated that they would certainly use COVID-19 antigens like Spike proteins present on the virus's surface. These project from the virus membrane and the antibodies affix onto these. These antigen proteins cover the electrode surfaces like a sticky pad, and the matched antibodies will certainly attach to these.
He further stated the very same technology could possibly be utilized to detect various other diseases that have well-known antibody-antigen binding. And the possibilities are limitless.
SMU has applied for a provisional patent of the technology behind the test, known as Multiplexed Assay for the Immune Reaction to COVID-19.
Beskok and Anil Koklu were the ones who initially came up with the concept of employing a "Lab on the Chip" tool to identify malaria and TB in 2018.
They produced an early prototype of this tool, making use of lattice-like nanopillar structured electrodes produced at the University of Texas, San Antonio. According to the outcomes of the study published in the journal Analytical Chemistry the early tool precisely detected IgG antibodies in just one minute using a small sample (1 ng/ml) of lab-bought antigens and antibodies.
Beskok and Chiao changed their target of study to coronavirus antibody detection after the ongoing pandemic started. Since then, Beskok, Chiao, and 2 SMU Ph.D. students have made modifications to the tool. As an example, they have actually created modifications to the electronic devices utilized to read the chip so that the test can be carried out wherever employing a mobile phone.
Additionally, they have included an extra detection technique to estimate how much of every type of antibody – IgG, IgM, or IgA – is present in a sample. This enables doctors to better monitor a patient's recovery to COVID-19. Because of the added detection step, Beskok estimates it will take 2-3 mins for someone utilizing lab-on-a-chip testing for coronavirus detection to get outcomes on their mobile phone.
The following step in the study will be examining the sensitivity and specificity of the tool utilizing laboratory obtained human plasma samples increased with laboratory obtained antibodies and antibodies. Beskok and Chiao will then evaluate the device on plasma from real COVID-19 positive people prior to making it available for the general public.
The golden standard for antibody screening is the ELISA. These tests need an individual to go into a laboratory to have their blood drawn, and they generally take 2 days to receive the results.
Chiao stated that there are a few other techniques to detect antibodies rapidly without utilizing pricey lab equipment; however, they deal with sensitivity, accuracy, as well as consistency problems.
The accuracy and speed of lab on a chip are attributable, partially, to several technologies. One of those is making use of ACET flows to bring antibodies in the blood plasma closer to the sensing unit's surfaces in the chip, so they can be identified.
Beskok stated that an analogy of ACET is this: recall utilizing a fan to push the air to pass a filter. The filter can capture much more dust and particles air this way. "In a similar way, ACET enables the antibodies in the blood plasma to successfully capture and identify using this tool.
As per Beskok and Chiao, the device's price to read the chip would be around $15-20. The disposable cartridge price, which is where a drop of blood will be not more than $1.
Chiao stated that their utmost objective is to develop measurable, precise, rapid, and low-cost analysis techniques based on the identification of human IgG, IgM, and IgA antibodies. This does not presently exist, and it would have a deep as well as a significant influence on the globe, given the destructive impact this COVID-19 pandemic has had.